Horoscope for October 2017 for Sagittarius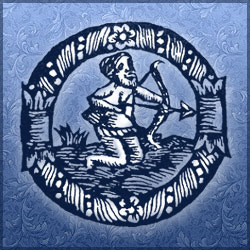 Horoscope for October 2017 is not going to be a special surprise for Sagittarius representatives. Inertia and self-fixation, that you've allowed yourself last month, will yield its natural results. Are you ready to dig through a whole heap of problems in professional and personal aspects of your life? However, even if you hardly feel any joy looking at these prospects, it is quite unlikely to change anyway (the problems will still be there, and you'll have to look for ways of solving them overcoming your own laziness).
Sagittarius representatives will be quite surprised that their once quiet aspect of personal attachments and feelings will turn into a squally ocean in October. If you are single and have been complaining some time ago about the lack of a suitable second half, the middle of autumn 2017 will dramatically change the situation. Several worthy candidates will appear in your life at once. And each and one of them will be rather determined to win your heart. Do not even try to make the final decision based on a first impression! There's a huge risk that you will regret trusting your intuition. Before telling somebody, "let's try to start a relationship," gather as much information as possible about the past of this person. If you are already married, you also won't be able to avoid the attention from the opposite sex. Of course, your better half will be hardly pleased by this, meaning that endless squabbles and misunderstandings are going to fill your house. It depends solely on you, how fast your marriage partner is going to believe that you are not looking around and you're definitely not accepting anybody's courtship.
It will be quite difficult for Sagittarius-employees to settle their career and work related duties in October. Lack of professionalism, that you have exercised in the recent past, will backfire on you, and at the worst possible time. For example, you'll ask for a raise, and your boss will find a mistake in your work at that very moment (meaning, that the answer to your request will be far from positive). You'll have to make a lot of effort to restore your damaged reputation, which means that for the next four weeks you will forget about peaceful rest and relaxation. If you are self-employed, the major problem in the month of October will turn out to be the searches for new customers of your services or goods. To achieve this goal, get ready to "cough up the money", since the main way out of the crisis is a high-quality, expensive advertising.
The month of October will leave Sagittarius representatives no time to pay attention to their own health. You will start to periodically skip taking some vital medication, which will result in the exasperation of an old disease. This negligence towards your own body will cost you quite a lot (it is possible that you will be looking for an experienced doctor, who can help you get rid of a relapse).
Horoscope for October 2017 for each zodiac sign
Horoscope for October 2017
Horoscope for October 2017 for Sagittarius