Horoscope for October 2017 for Capricorn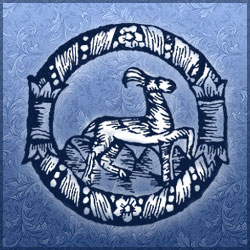 Horoscope for October 2017 warns Capricorn representatives against excessive openness when communicating with others. Do not rush into opening your heart even with the closest people, since you can never know for sure, what will turn out of your communication. This will be your main trend of this month - the lack of confidence in everything...
It will be rather difficult for Capricorn representatives to focus on their personal lives in the middle of autumn 2017. You will no longer understand, who or what prevents you from fully enjoying the friendly affections. People, you've always considered to be your friends, will behave rather coolly towards you in October. It is quite possible that ugly rumours will be the reason for that, it will be the gossip started by your secret enemies behind your back. You are not able to completely stop these attacks on your good name. The only thing you can do is to minimize any kind of contact with strangers. Stay on the lookout even in your attempts to build a new romantic relationship. Do not forget that every person, showing passionate interest in you, might turn out to be a liar or a "spy" from the enemy camp. If you have already built a solid relationship or even a family, the month of October suggests you to pay particular attention to your second half. Do everything you can in order to prevent your beloved one from seeking warmth and personal bonds in somebody else (yes, this option also should not be excluded, provided that you will act too coolly towards your marriage partner).
Mid-Autumn 2017 is going to be a rather productive period for Capricorn-employees. You will find ways to prove your professionalism to your superiors, which will result in a decent reward for you. In general, you will be completely satisfied with the state of your finances. Of course, at this point you won't be able to get a car of your dreams or expand your living space (except that you can take out a loan of these expensive purchases). If you are self-employed and do not have a fixed monthly income, the month of October is going to secure its place in your personal business history as one of the most promising and bright periods. After many sleepless nights you will be able to expand your business, immediately followed by a noticeable tendency to growth in the level of your income. Many people will be envy of your successes in October, so you should think of ways to protect yourself from your competitors' schemes in advance.
Mid-autumn will leave Capricorn representatives no time to take care of their own health. It is quite possible that you will completely ignore all the warning signals of your body. Of course, such a careless approach won't do you any good... The least of the consequences you might be is a couple of days spent in bed, and the maximum outcome of these problems is very difficult to predict (it all depends on how quickly you take action).
Horoscope for October 2017 for each zodiac sign
Horoscope for October 2017
Horoscope for October 2017 for Capricorn