Horoscope for October 2017 for Gemini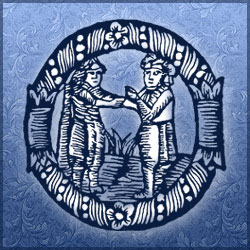 Reading their horoscope for October 2017, Gemini representatives will hardly be able to restrain themselves from making a satisfied smile. The middle of this fall will help you completely let go of old problems, you'll also learn to forgive the mistakes of your beloved ones, and you will start finding something positive in everything happening around you. However, in general, the month of October is not going to give you any vivid reasons to feel thrilled, meaning that its favorable character will be mostly caused by your inner state, rather than any specific events.
Mid-autumn will make Gemini representatives feel satisfied with just about everything happening in their personal lives. If you have been suffering from loneliness until now, the month of October is going to change this situation dramatically. No, there still will be no person in your life, whom you could call your soul mate. You'll just change your attitude to your own loneliness. Watching the lives of your married friends, you will be happy to note that all domestic issues, squabbles and other "charms" of married life have passed you by. You will enjoy the feeling of being absolutely free, meaning that you're entitled to make all the decisions unilaterally. In short, you'll put off the settlement of your personal life until later. Married Gemini representatives in October, on the contrary, will feel the need for support and sympathy from their beloved one's end. You will want to share your success and mistakes with close people, which means that you will look for any way to spend every minute of your free time in a tight circle of your beloved ones. Your relatives will meet this urge for family harmony with great enthusiasm, and soon enough numerous conversations over dinner, family trips and other homely joys will become the new norm for your whole family.
Mid-autumn of 2017 is not expected to bring Gemini-employees any fundamental changes in their professional lives. Carrying out all your official duties, you'll suddenly realize that these tasks bring you endless joy. This feeling will be intensified significantly once you are assigned to a new task of "educating" some of your new colleagues, or taking under your patronage some careless employee. While you're sharing the basics of your profession with these people, your self-esteem will rise dramatically (it is quite possible that it will reach an unbelievably high point). Gemini representatives working in the sphere of entrepreneurship, will dedicate the month of October to the searches of new creative ideas to make their business continue its balanced growth and development. There is a possibility that you'll choose to carry out these searches somewhere abroad, rightfully deciding that you have something to learn from your foreign colleagues.
The month of October will not make Gemini representatives worry too much about their own health. A constantly balanced emotional background will dominate this month, which will contribute to the success of your previously launched projects (you will continue to engage in cold trainings with great pleasure and attend classes with a personal coach).
Horoscope for October 2017 for each zodiac sign
Horoscope for October 2017
Horoscope for October 2017 for Gemini