Horoscope 2014 for Taurus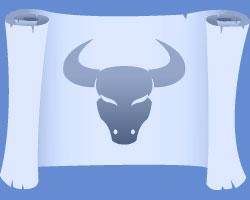 Taurus you know what you can do and 2014 is your year to show your real potential. You know what your priorities are in your life. 2013 was a good year and long term plans started to come to pass. During the last of 2012 Scorpio welcomed in Saturn and stress began. You felt it throughout 2013 and it will be more intense in 2014. There is high resistance in your life today, but don't let it slow you down. Take the energy and stress and make it a part of the engine that drives you to your final goals.
Keep a steady pace throughout 2014. Saturn is helping you finish what you started. Run away from the drama or negativism that comes your way. Those spells of high fortune will be welcomed, but do be cautious and calm. Stay productive in the financial market and watch your funds. Your theme for the year is calm and steady. If you have a serious relationship you may find that by Saturn moving into your house of love and social activities things begin to become much more intense.
Business partnerships are tested and there will be very little social activity in the year ahead of you. Have a plan in place for life. Your character is heard-headed and realistic and do hold to your beliefs. Your partnerships might bring you to your knees again in 2014.
More responsibility will come to you in the first part of 2014. Don't step away from those projects; they will very lucrative in the long run. You are in a long phase of reflection and need to clarify what you want and where you are going.
To keep up with the choices you made in the past you will need to listen to your heart and determine that you can do it. You put an end to a relationship years ago and that person just won't go away in your mind. They are not yours to have so stop being stubborn and accept what you have done. There is a feeling of guilt in your life and it becomes obsessive in 2014. Do not keep dreaming about someone that you will never have again.
Experiment with spirituality; it will do you good. There will be a changing of practices this year. Many times you will think about what you are doing and change your venues. Though you have been forgotten how to pray, you need to relearn this task this year. There is going to be emphasis on charitable organizations for you. Grow them and learn to be a volunteer. As a very hard worker you have the wonderful gift of organization. You will work behind the scenes and make a name for yourself. Neptune in your social house this year will keep you a bit on the quiet since. Medicine will prove to be a very satisfying choice for a new career. No matter your age, you can succeed.
With your awesome sensuality Taurus learn to love sex, food, art, music and the entire human experience. Pluto in Capricorn changes your ideas and you will tend to be the opposite of how you were raised. You will definitely have to lose your prejudice ideas about people during 2014. Your beliefs must be on your own terms and not those that are adopted from others. However you may need to learn to compromise if you want to be happy with someone. You will definitely have a career change, but that will bring you into line with who you really are.
Avoid drinking excessively this year. You love alcohol and eating and this is not good. Stop. If you don't balance your health you will not be able to carry on with your dreams. You will become a vegetable.
Read:
Horoscope 2014
Horoscope 2014 for Taurus for the year of Horse
The 2014 horoscope brought to you by Horoscope-For.com - free 2014 horoscope for the year of the Green Horse.