Horoscope 2014 for Cancer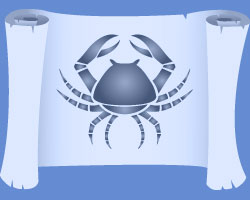 Cancer being an emotional and very dynamic sign, you can also be very changeable. Your love live is more stabilized this year and you have creative ideas running through your mind. Understand your heart and come back to love and romance in 2014. It might take a big effort, but it will happen. During the spring of 2014 you will find your career exploding. Work hard at keeping yourself balanced with career and family. It will be a fun ride!
Working hard has made you stronger and you will reap the benefits this year. All your hard work will pay off and life will be almost magical. You are harvesting the seeds you planted in years past and it is good. To achieve your goals you need to develop your spiritual being. Read, pray, meditate and find balance n your mental capacities. Make 2014 the year you become more in tuned with what is inside you. Find your soul and begin to "love" yourself once more.
Great progress in all your goals this year. You are stronger and feeling the progress in your career. Take classes that enhance what you can do. From July 16 to the end of the year you will find that there is very little suffering in your life in regards to finances. Jupiter shines on your house of finances and this is a very pleasing effect. You will seem to find the money you need when you have need of it. You are very lucky this year financially, but be careful, this is not going to be the norm forever.
During your travels through 2014 you will meet people who are very different from you. They have unusual outlooks on life that is wonderful! Take what they give you and run with it. Romance and close friendships are pleasing for the most part. However do watch out for pain in romance. There is a high degree of unpredictability in your sessions with others. They can be exciting, but will also be somewhat disquieting. Saturn in your house of creativity provides pastimes that can be very productive and enjoyable. This can be gardening, house renovations or even working with different people. There are those who will pay you for your skills. Don't undersell yourself like normal. Take your talents and run with them. If someone wants you to write their memoirs, do it!
You feel the need to stimulate your mind this year. Neptune in your house of learning will convince you to move into the depths of what you can do mentally. Take educational courses. Cancer, this is the year to use as an opportunity to study new areas that enhance what you already have in your portfolio. Take the chance to do something wonderful for yourself and humanity try writing that novel you have always wanted to write. You have the skills and the materials to create something meaningful for others to read and learn from.
Your health will be great if you follow the regimen that is set out for you. Pay attention to little troubles and aches and pains. Do not underestimate what they mean. Avoid risking the bad luck of chronic joint issues that may become highly difficult to manage if you ignore them. Listen to those around you and try not to think you are the "strong" one. There are health issues that must be taken care of; don't bury your head in the sand.
Prevention is the best medicine. What you do with 2014 is totally up to you. The planets are aligning favorably for you this year, but they will turn away if you do not follow their strict instructions.
Read:
Horoscope 2014
Horoscope 2014 for Cancer for the year of Horse
The 2014 horoscope brought to you by Horoscope-For.com - free 2014 horoscope for the year of the Green Horse.