Horoscope 2014 for Scorpio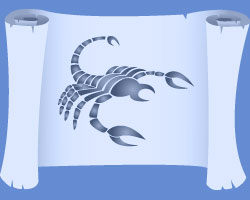 Years ago Saturn moved into you sign Scorpio and here he stays until the end of 2014. You take on more responsibilities and burdens due to these influences. Be serious about life. If you are feeling confused and disenchanted with your career blame this on Saturn in Scorpio and Uranus playing in your house of career. Prepare for setbacks at work and for more and more responsibilities as the year moves. Do not lose hope, however, just keep working. You will be well rewarded for work that is done well and finished within parameters. Your rewards will be long-lasting however long it takes to get them.
Look into your heart to discover your level of commitment to you and to those you love. Be fiercely loyal to those you love. Grow as an individual this year and make a mark on your career and your personal life. Reality checks are the theme of 2014 and you will need to continually question your decisions. If you are not happy, cut your losses and leave on a different course.
Your career or life goals will have you traveling regularly this year. You may also communicate with people from overseas. You don't know what is really going on since you are so busy, but you love the exciting venues you are sent to. Keep mentally and physical healthy; you will need it. During the first half of the year your exercise regimes will be challenged. Learn to work out on your own. Do eat well and by June you will have established a practice of eating that is commendable.
After June you will find that increasing emphasis on your professional life leaves you with little time for family. You will receive a promotion that gives you a positive approach to your future. Your home life will suffer, but with great communication you can smooth this over.
As Pluto enters your house of communication you will find that you want to learn more and more. Teach, expand your knowledge base and share it with others. This is the crowning glory of this year. If you are a writer or a teacher or love to read and report the news you will be highly rewarded. Your mind is sharper than ever and learning is very easy for you. You are so very aware of what is going on around you. You walk into a room that is filled with people and you are highly aware of what is going on. You know without doubt information that is buzzing around the room. This is very important as you transit through 2014.
Love communicating with friends and neighbors at your own pace. You don't mince words when you are asked for your opinion and what you say will be listened to. You might find that relationships with siblings are different than ever before. If there has been hurt and anger in family relationships you will definitely have the chance to heal those relationships during the middle of the year. Misunderstandings can be taken care of if you move toward your center.
You are a very powerful individual but do be aware of wielding this power in a malicious manner. Let those who love you benefit from your intelligence and loyalty. This can be an awesome year of communication and renewal.
Neptune moved into your house of fun and children in 2012 and is still residing in this house. This is incredible. You will be so very inspired by children and their innocence. Perhaps if you are in a committed relationship you will increase your number of children. If so, it will be phenomenal. Love image and personal pleasure. Take care of higher education and travel, and adore who you are.
Read:
Horoscope 2014
Horoscope 2014 for Scorpio for the year of Horse
The 2014 horoscope brought to you by Horoscope-For.com - free 2014 horoscope for the year of the Green Horse.