Horoscope for July 2014 for Capricorn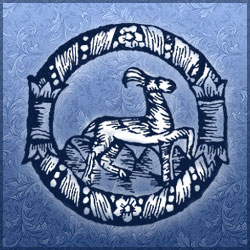 Capricorn you have put everything you have into your career and establishing a name for yourself. You might think now is the time to just leave the company you are in and strike out on your own. July is a good month to do this since Jupiter will ease the the way a bit. He will enter your house of finances on the 16th and make it easier to get a business loan.
Don't let anyone talk you out of your dreams this month Capricorn. Avoid being around those people who want to control you and tell you what to do. Stay as far away from them as you can until the end of the month. You especially want to be incognito on the 4th, 22nd and 28th. This is the time when the Sun, Venus and Mercury are playing tug of war with Pluto. Be careful what you do and on the 13th good news will come your way.
On the 26th of July the New Moon will stop by in your house of finances and shared resources. This will be a good time to talk to your relationship partner about finances. Sit down and plan a budget. You do not need to be reminded to tend to your account books. Look over your bank account regularly during the entire month of July.
If you are ready to pull the trigger on a new home, reconsider. Talk about it with your love, but you will discover they do not feel good about changes right now. Consider what is going on; if someone does not feel good about a transaction don't do it.
Challenging days in July Capricorn include the 3rd and 4th. Go to family parties and picnics on the 4th but beware of getting into arguments with cousins. Take the day off on the 19th to sit in the park and just think about where you are going. Watch for falling apples. On the 21st avoid using your car at all. Enough said. On the 26th the office will be in chaos. Don't be a part of the gossip mill. On the 27th the time is not right to purchase a new home. Crying all day will not change things. On the 28th you will have one of the worst days of the month. Nothing will go right. Be warned and watch.
Great days for you Capricorn are the 8th, 12th and 13th. These will be days when support comes your way for projects and plans. You will be able to finish the painting and work you are doing at home and it will be glorious. On the 18th take your love to lunch and introduce him/her to your work mates. They will be impressed you have someone so awesome. On the 20th be happy and talk sweetly to your boss. Be calm and past issues will be good. On the 22nd you make your first sale and on the 24th you are the hero of the day.
Horoscope for July 2014 for each zodiac sign
Horoscope for July 2014
Horoscope for July 2014 for Capricorn