Horoscope for January 2014 for Sagittarius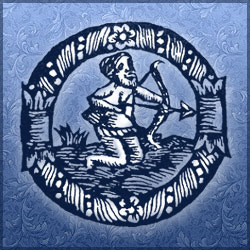 Sagittarius what a huge month of excitement for you. The Sun is shining in your house of feeling great and you want to just go out and run through the snow. Favorite things in your life are emphasized. Take time for drama, travel and romance. Take a chance. Be focused, however, on just one or two choices. You will have a wonderful January 2014.
Follow through on the goals you have set for yourself. Keep resolutions at least for 30 days. Take the most of your energy, determine your priorities and set plans to make them work. You might need to sign up for higher education classes to enhance your career.
Your house of friendship is emphasized in the middle of the month when Venus enters. Bring people in your office and friends together to facilitate negotiations and commitments. This is an excellent month to volunteer and start a social cause. Bring about great good into the world with just a little piece of activity.
You are so inspired to share new ideas when the Full Moon breaks through your energy cycle and your house of communications. Give your ideas to others in a blog or just tell these ideas to those who will pass them on. Realize the benefits of doing things for others. Have courage to go against what is traditional and make a positive mark on the world.
As Jupiter shifts through your house of compassion you will ask those around you to get out of their comfort zone with you and volunteer. You have an emotional commitment to make to others who have been hurt and are in sorrow. You have been there and promised that you would make a difference when you could. Now is the time and this is the year to do it. Challenges are waiting for you to conquer them.
There are tensions over finances and you need to learn to budget. You can't just go out and have fun without knowing there is enough for milk. Do be conservative financially. You do not have to spend to be comfortable. Be strong for you and your partner. You feel like you can't stand this, but you have to.
Uranus moves in your house of romance during January 2014. Spice up your partners or maybe attract a new person. Break out of your old schedules and routines and try something new. Use new pickup Iines and try to change your appearance. This will do wonders for who you really are. Be positive.
Challenging days for you Sagittarius are the 10th and 11th. The first of the month is wonderful, but you do need to take better care of yourself. Flu and colds are the order of the day and you will not feel better until the 13th. Then you will be so weak that you cannot work all day and it is annoying. The 20th and the 21st are bad days at work and you will be challenged to get things done without having to ask for help. The 30th is a day to again stay home and get better.
Rewarding days are the 1st through the 5th. These will be the best days of the month for you Sagittarius. On the 19th you will go on a shopping trip with your best friend and it will be awesome. The 25th and the 26th are good days and you will finish projects. Stay away from street corners on the 31st, however. Not bad, but could be demanding.
Horoscope for January 2014 for each zodiac sign
Horoscope for January 2014
Horoscope for January 2014 for Sagittarius