Horoscope for November 2012 for Pisces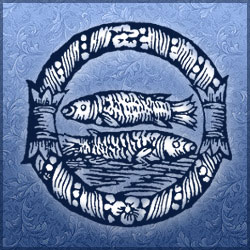 Pisces do you wake up feeling overwhelmed? November will be overwhelming. Slow down and think. Don't get stuck in endless planning about the future. The 4th and 5th can bring you romance and you need to listen to your heart. Handle work problems on the 16th with grace. Wind down on the 30th and just wait for love to come to you.
As the Sun enters a more adventurous and expansive area, Pisces, November will raise your spirits and help you see out of the box. You may have itchy feet and want to escape the everyday work world. This is a good time to get out and about. You will be full of ideas and wishes that you want to turn into money making projects. It does require research and you will learn much as you investigate.
Plan a vacation or travel but find a place where you can sit quietly, reflect, meditate and plan. The solar eclipse on the 13th is in a good angle to your Sun sign and changes will happen in your chart over the months to come. The lunar eclipse oh the 28th will give you the chance to rebalance your family commitments and built up your relationship. You will also be able to finish career and worldly obligations during November.
Be very aware of omens that may validate or reject your plans. Put mental efforts into expressing yourself in the best ways so you will get the results you desire in both personal and career life. On the 14th you will want to connect with those who live a great distance from you and this may involve you in education or a different scenario which will give you an entirely different perspective on goals, life and relationships.
From November 1st until the 22nd you will have some influence from Venus on material wealth. This may be a good time to pool resources with your partner or a trusted family member. Negotiations could be emotional and you may shift into more commitments. You could have your deeper feelings touched by the right person and things could become more intimate or more committed. It depends on how well you and someone else are getting on together. Have a heart to heart talk and seek advice. On the 27th you will feel more restrained and possibly back off.
Until the 17th of November you will continue to put physical efforts into achieving goals and ambitions. There may be career oriented or personal points you want to accomplish on the way to the future. You need to be energetic and decisive; no waffling for you! You may have more robust interactions with family members or an authority figure. You will also have a group dynamic and want activities with friends or acquaintances for either professional or personal reasons. Mars' energy will help you initiate change. From the 22nd to the end of November you will take your worldly responsibilities much more seriously and move forward with committed relationship and business ventures.
Horoscope for November 2012 for each zodiac sign
Horoscope for November 2012
Horoscope for November 2012 for Pisces