Horoscope for February 2012 for Pisces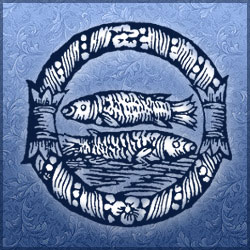 Pisces, the full moon in February will illuminate your friends and lovers. The moon will reside in your house of love and you will find very dear ones are important and the center of your life. They are the ones you can depend on. If you are in need call on friends. Start over in differ areas of your life. Let the results determine which way to go. On the 1st of February you will have Pisces moving through your house of recreation. Take a small road trip with friend you love to be with.
Saturn is in your house of personality and appearance throughout the month. You need to change what you look like and how you wear your hair Pisces. You haven't had time for a good old-fashioned make-over and on February 10th you take the time. Romance will flourish when you change up.
Around the 5th of February Venus will move into your house of home and work with Sagittarius and get things cleaned up. Now is a good time to paint, redecorate, and cheer your home for the coming months ahead. The 18th will determine that it is now time to move to a new home. The 28th will find you in the mortgage company's office and you will be approved for more than you thought you could have.
Venus will move into your house of romance. There she will sit with Mars. On the 28th you will have love and war running through your life. Opposites do attract; you and you and your new relationship partner are proof of that! The two of you will share feelings and it will be passionate and exciting.
Challenging days for you Pisces are the 10th and 11th of February. You cannot seem to please anyone at home on the 19th. The 20th sees all the work projects you have been in charge of falling into oblivion. In other words you will have to do them all over again.
Be rewarded on the 1st and 12th. The 13th is a good day to start a new business if you wish. The 17th is very rewarding and the 21st is even more rewarding. Stay awake at work on the 22nd so you do not miss promotion announcements. You are one of the promotions. On the 27th and 28th do take time just for you. Listen to your inner spirit and meditate on the world around you.
Horoscope for February 2012 for each zodiac sign
Horoscope for February 2012
Horoscope for February 2012 for Pisces