Horoscope for January 2018 for Scorpio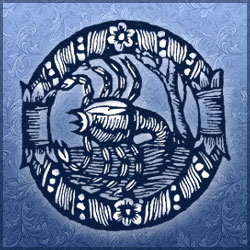 The 1st of January will be an interesting day for you, dear Scorpio, as there is a full moon in Cancer. This moon represents the feminine energy of all things, and you are bound to feel extra emotional today. This sensitivity reminds you to honor your feelings and find ways to channel this energy into something positive for yourself. The full moon will remind you that you are filled to the brim, and you must release what no longer serves you to have a fulfilling new year. The skies want to help you start the year off with a great start!
Saturn remains in your 3rd house of communication and will be here until 2020. You are mysterious, lovely Scorpio, and Saturn's alignment will make you feel even more hidden. You are more prone to the observation of what is happening around you rather than participating. Saturn treads carefully when doing anything, so you are cautious in your communications. You will be drawn to professional careers that have high achievement potential within an observational field. You might be interested in the sciences, journalism, marketing, design, education, and politics. You will have an aura of wisdom about you when you speak, and others will heed your advice throughout the course of this alignment. Saturn will help you find your voice and be more disciplined in your expression. You will feel practical in how you think, and your goals will be rational, attainable, and clear. You are prone to thinking more seriously about the future, and you may be so withdrawn at times that you can be prone to feeling depressed and anxious. Remember that Saturn is here to guide you, not make you miserable! With time, you will develop your communication skills so well that you will understand why Saturn's alignment is necessary here.
Mars has been in your house since last year and will remain here until January 26th. You will be extremely energetic, dynamic, exciting, and passionate this month. You are already such a deep person, but you will be more straightforward than usual with others around you. Mars' action-oriented energy helps you be direct and decisive, although you will still keep your mysterious, spontaneous attitude. You might feel more aggressive in nature, wanting to control conversations, people, and events in your life. You will feel feisty, assertive, and even courageous! Mars encourages you to throw yourself into your work and your beliefs, never giving up and always trying harder. When Mars transits into your money house on the 26th, you are likely to work very hard at work, focusing on material possessions the most. You will be quite ambitious and may even work overtime in hopes of getting a bigger paycheck. You might enjoy more physical challenges and activities now, so it is a good time to get that energy out doing something you love! Whether it is going to the gym, doing yoga, going for a run, or something else active, Mars encourages you to release those endorphins and commit to your intentions. He is in a perfect place for you for the new year!
Mercury transits into your 3rd house of communication on the 11th of this month. You will really enjoy spending time outdoors, as you are naturally curious about the environment and its inner workings. You will be communicating with a lot of different people this month, and some of this may involve your intellectual pursuits. You are eager to learn, and even more eager to possess knowledge in this house. You are drawn to all forms of expression; speech, writing, reading, and language in general. You may expand your network of professionals this month, so make sure to have your resume or business card on hand if you are looking for a career change! It is also a great month to journal and writes down any ideas, feelings, and thoughts that may be stirring about in your brilliant mind. Venus beings the month in your 3rd communication house as well, further drawing you to aspects of language. Your desire to learn will stem from the recognition of beauty in language and thought. You are fascinated with different kinds of people, especially multiple ideas. You will fall in love with literature, art, or any form of expression that calls to you. You may also take short trips, visiting friends or family close by.
On the 17th, Venus leaves your 3rd communication house and enters your 4th sector of family. You will feel extra connected to your roots, where you came from, and past memories of childhood during this time. Because Venus is so loving and harmonious, you are likely to look back on happy memories, taking time to remember the wonderful moments in your life. If you have unresolved issues with your family, Venus may bring them to the surface here, and you are inclined to have deeper conversations about these problems. Venus encourages you to find the beauty in chaos, and sometimes, chaos is necessary to shake things up! You will be okay, dear Scorpio, and the Universe totally has your back. Your luck in love is also on high, given Jupiter's influence as well, so if you are interested in dating, now is a perfect time. If you are in a relationship, you are predicted to have smooth sailing and consistent communication with your partner.
There will be another full moon at the end of the month, and this one is a lunar eclipse in Leo, your 10th house. You may be able to identify here insecurities and fears that are holding you back, especially in your professional sector. What do you really want to accomplish? What makes you feel the most vulnerable in your career? This alignment will encourage you to examine the truth and shed your insecurities to go after what you truly desire, Scorpio! With Jupiter still in your sign until November, you will continue to be blessed with financial gains, good health, and positive energy all month long.
Horoscope for January 2018 for each zodiac sign
Horoscope for January 2018
Horoscope for January 2018 for Scorpio