Horoscope for January 2018 for Capricorn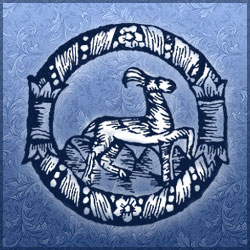 This is certainly your month to shine, dearest Capricorn! The Sun begins in your house, and has been here since last month. Happy birthday! With the Sun shining in your sign, you will likely feel much more confident at the beginning of the year and will have an influx of energy as well. On the 19th, the Sun shifts into your money house. This is an auspicious alignment for you, since you are so careful with your finances. The Sun encourages you here to take gentle risks with money, and spend it on something that relates to your personality. What makes you tick? What material possession have you wanted and never purchased because of doubts, fear, and insecurities that money won't always be there? The alignments this month are secure enough that you take these calculated risks, and will still be in the clear!
Saturn made a big shift last month into your sign, and he will be here until 2020. Saturn is your planetary ruler, so you will feel comforted by his alignment here. Most signs do not like Saturn, as he puts limitations and restrictions on them, but you are happy to be in Saturn's presence, dependable Capricorn! Over the next three years, you will be working on your self-image and identity, especially how you display yourself outwardly to others. You will overcome fears and obstacles regarding your personality, and you will shed any insecurities within the ego. As you develop your persona, know that Saturn has not been here for over 28 years, so this is quite a new alignment for you. However, it will be one of the positive transformations, as you are slow and methodical, just like your planetary ruler.
Jupiter remains in your 3rd house and will be here until November. He is an excellent influence on your social life, your personality, and your ego. You usually like to keep to yourself and have few friends close by, and Jupiter encourages you to meet new people who share common interests, and you are likely to find friendships along the way He brings his luck to you on this front, and wants you to expand your wings even more!
Mercury begins in your 12th house of the subconscious. This is an interesting alignment, and one that should not be taken lightly. Mercury will bring intense thoughts to all of your subconscious ideas, and you will actually be able to discuss these in the real world. You might be able to interpret dreams or psychic messages at the beginning of the month, as Mercury rules communication, and can decode anything in your mind. On the 11th, Mercury enters your house, dear Capricorn! You can expect stellar communication throughout the month, especially in regards to your work environment. If there is a project you are working on, you are wise to complete it during this month, as Mercury is an excellent companion for intellectual stimulation and production. You will feel a boost of confidence in your career sector, and this will be further affirmed by your superiors when they notice how you are precise, dedicated, and steadfast. Mercury brings great luck to you on the job front now.
Mars begins January in your 11th house of friendships. This is a great time to take on a leadership role within an organization. If you are a member of a club or group, you might want to take initiative on a new project, as Mars' action-oriented energy helps strive for the best possible outcome. However, Mars may also be quite aggressive in this house, and it is not uncommon for you to get on people's nerves with your stubborn tendencies! Make sure that you do not steamroll any friends or colleagues, because you will certainly feel like you are right no matter what the situation is. Allow others to step into the limelight if necessary, and do not let Mars overwhelm your friendships with those you care about. On the 26th, Mars enters your 12th house of the subconscious. This is an excellent aspect of Mars, and you will find yourself very active in the dream state. It is a good idea to keep a notepad by your bed in case you wake up in the middle of the night with revelations or intuitions from your subconscious. Mars makes this house very active, so you will feel even more psychic in the waking state during the end of the month. Mars will be here until March, so you best make yourself comfortable!
Venus has been in your sign, the 1st house of self, since December, and will remain until the 17th of this month. Venus in your sign makes you quite attractive to others! You might enjoy an abundance of admirers and followers now, since your energy seems to be glowing. Venus ensures that you remain happy in love here. If you are single, you will have several opportunities to go on dates and meet new people. If you are in a relationship, Venus will make sure that the month goes smooth and steady with your partner. This is an easy aspect, so no worries on the love front! On the 17th, Venus shifts into your 2nd house of money. You might be extra attracted to people who display wealth outwardly, or who you know are wealthy. You will also focus more on your appearance this month, as both the 1st and 2nd house control your physical attributes.
This month is all about you, lovely Capricorn! The planets are balanced between your first houses and your last houses of the zodiac. Here, you are blending together the aspects of the outer ego and the inner self. This is an excellent month to reflect on how you express yourself to others, and if this is in line with who you really are on the inside. The best days for reflection are the 1st, the 16th, and the 31st, when the full and new moons take place.
Horoscope for January 2018 for each zodiac sign
Horoscope for January 2018
Horoscope for January 2018 for Capricorn