Horoscope for May 2017 for Scorpio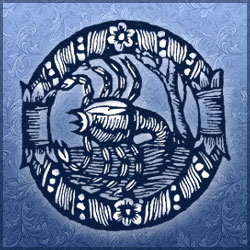 Horoscope for May 2017 does not predict the people born under the sign of Scorpio any "large scale" problems and troubles. Your life will finally fall into its place, and you will realize how nice it is to go to bed without having to worry about anything. Not surprisingly, that enjoying such a harmonious period in life will force you to try to implement some major personal project (changing the image, taking care of yourself, or writing a book).
The personal lives of Scorpio representatives in May 2017 will be marked by a complete tranquillity, which will only occasionally bedevilled by a slight breeze called "minor troubles". Earlier this month you will not be able to agree with some of your old friends, but this unfortunate incident will resolve itself at a rather early stage. If you are not bind by marriage, do not miss the opportunities that will appear in front of you. During a trip to unfamiliar places you will find a very attractive person of the opposite sex. Getting to know this person a little closer, you will realize that perfect looks is not their only virtue! At this point you won't be able to start a new romantic relation, since you and your new passion will be separated by many kilometres, but you will do everything possible to make your feelings overcome the obstacle of distance. Married Scorpio representatives will be filled with delight in May, watching the pleasant changes in their personal living space. Once your recently launched fundamental house repair works (refurnishing, thorough cleaning) will come to its logical end, peace and harmony will settle down at your place. Your significant other will start to bring up less and less often your recent disagreements, and that's why there's nothing preventing you from starting to discuss the plans for the next vacation.
Career and financial aspects of Scorpio's life in May also are not expected to cause any big trouble. If you work for some company, the end of this spring promises to bring you every chance to significantly develop your career. All that is required from you to achieve this is to make friends with colleagues. It is a professional tandem with people, who are well-versed in the matters of official business, that will open the door in front of you, which you could not get through for so many years. Scorpio representatives working for themselves, will realize in May that they really need decent companions. You will immediately start searching for people able to become reliable partners for your business. Lady Luck will certainly smile at you, and in the second half of May you will sign a very lucrative contract with a large successful company.
The end of spring is expected to bring Scorpio representatives not a single reason to be concerned about their well-being. Your energy potential will be rather high, and all nervous disorders and other troubles will remain in the past. The only thing you should pay attention to is that pursuing your desire to get into shape as soon as possible right before the beach season, refrain from gruelling physical exercises.
Horoscope for May 2017 for each zodiac sign
Horoscope for May 2017
Horoscope for May 2017 for Scorpio