Horoscope for May 2017 for Pisces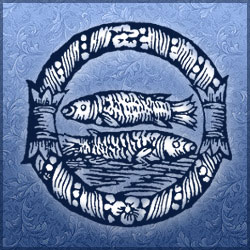 Reading the horoscope for May 2017, Pisces representatives will realize that for the next four weeks they won't be able to enjoy even the tiniest break. You will have to deal not only with your personal issues and business, but also take part in solving the troubles of your beloved ones. Exhausted of all this fuss, you will imagine yourself relaxing somewhere at the seaside. Unfortunately, at this point vacation will remain to be an impossible dream for you, though it is worth starting the preparations for the holiday.
Peace and stability will abandon the private lives of Pisces representatives in May of 2017. If you are single, the end of spring will help you start not one, but two new romantic relations, which will take place parallel to one another. You are the only one to know how you are going to keep a secret from each of these relationships. It is quite possible that you will figure out a "schedule of meetings" with both admirers and will write it down in your personal diary. As a result, none of these people will know about each other, and you will only occasionally scold yourself for such a dishonest behaviour. Married Pisces will not be able to enjoy home harmony in May. More specifically, you will happen to spend so little time at home, that you won't even figure out whether this very "harmony" is actually present at your place. You will be a lot more interested in social life and endless problems of your friends rather than in family matters. As long as you are helping all your friends, your significant other will probably get bored. There's a high risk that your beloved one will once again get back to their bad habit (this is the price for your carelessness!).
Career and financial aspects of Pisces representatives might also create a rather unstable situation in May. If you are an employee of a company, a major source of worry for you will be disappointing news - a planned reduction. Not wanting to get onto the list of people who are destined to join the ranks of unemployed, you will be working at your full capacity (maybe even a little more). Until the end of May your professional future will not become clearer, and therefore you will have to continue to monitor the situation. Pisces-entrepreneurs will be outraged by the appearance of new business competitors in May. The tiny company that you have never taken seriously, will suddenly become a real "business shark". Trying to defend your previously conquered positions, you will spend evenings and all weekends at work, continuing to mentally throw angry words at your competitors.
When the month of May comes to its end, the nervous system of Pisces representatives will resemble the ruins of an old castle. Fatigue and chronic lack of sleep, coupled with the state of constant stress, will force you to stay in bed for a few days. However, if you follow all the recommendations of your doctor, the illness will quickly recede, and you will once again return to the usual rhythm of life.
Horoscope for May 2017 for each zodiac sign
Horoscope for May 2017
Horoscope for May 2017 for Pisces