Horoscope for May 2017 for Capricorn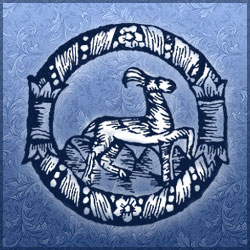 Horoscope for May 2017 for people born under the sign of Capricorn is not expected to be rather eventful. The next four weeks will make you firmly protected from any kind of worries, though any large-scale victories, fundamental changes and bright emotions are also not expected in your life. Yes, the end of this spring is unlikely to surprise or please you with anything, but this will be the main "advantage" of this period (relax, take a break, get involved in preparations for the beach season).
All events in the personal lives of Capricorn representatives in May 2017 will follow a previously planned scenario. If some time ago pursuing a desire to start a new love affair, you've become acquainted with some interesting person, at the end of spring you'll be taking rather active steps towards getting closer to this person. Chances are that even at this point, having studied the characteristics of each other, you and your new passion will announce that you are now a couple. If you are married, all your efforts in May 2017 will focus on some major home design. You will continue to make repairs, make an expensive purchase, arrange a huge graduation party for your already child or invest money and time into another, not less important event. While all your thoughts are occupied by these troublesome chores, you and your significant other will refrain from conflicts and quarrels, which can flare up at any time on the routine basis.
May of 2017 promises to be a rather favourable time for the financial aspect of Capricorn's life. Once again assessing your budget, you will come to the conclusion that the period of austerity you've started some time ago, is going to bring rather good results. At the end of spring with no loans and other debt obligations, you will be able to afford a very costly purchase. Yes, after that your "treasury room" will be empty, but even this fact won't be able to overshadow your joy. If you are working for yourself, stars do not recommend you to go and immediately "squander" all available finances. There is a risk that your business will require new investments in the second half of May. In order to avoid asking for bank loans, and then paying out insane interest rates, rely entirely on yourself. Postpone everything you have been planning to spend your money on, and invest these funds in your own business.
May of 2017 will help Capricorn representatives to avoid their major illness (seasonal allergies to the flowering of some plants). You will generally like your own well-being at the end of this spring, and that's why you'll be proud to tell all your friends that from now on you are not going to get sick. To implement this plan you will need not that much, actually - catch every alarm of your body and take measures of assistance in time.
Horoscope for May 2017 for each zodiac sign
Horoscope for May 2017
Horoscope for May 2017 for Capricorn