Horoscope for July 2017 for Taurus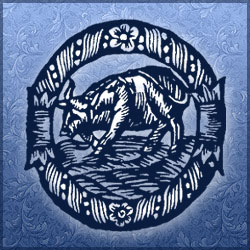 Horoscope for July 2017 does not predict for Taurus representatives any problems in any area of their lives. If you learn to solve all your current domestic issues with a positive attitude, you have every chance to remember the middle of this summer with a happy smile. The only thing that will require your utmost attention is new acquaintances. Try to avoid being too open with people you are not very well familiar with.
The personal lives of Taurus representatives in July is expected to be completely stripped off any extraordinary events. Once you realize that an amazing calm has formed around you, and all the problems with your friends, beloved ones and relatives are in the past, you'll want to diversify your life. It is quite possible that July will become the month when you finally begin your house repairs, which have existed only in your dreams for quite a while now. If you are alone, in addition to many issues related to house repairs, you'll be interested in much less prosaic matters. You will begin to decide where and how you should conduct a search for your second half. Unfortunately, the beach, a nightclub and other entertainment places, in which you'll show up here and there, won't present you with a crucial meeting. If you are married, the month of July will be marked for you by a complete absence of any kind of movement. Rare visits from your relatives, a couple of trips to the beach - this is, in fact, your entire "cultural program" in the nearest future. Your second half will be particularly saddened and worried by such a monotonous family life this month. Just for the sake of your beloved one, you'll begin to periodically go out and visit some friends or acquaintances.
The mid-summer of 2017 promises Taurus representatives no major issues with their finances. You will be happy to notice that at this point such "perks of a good life" as expensive boutiques, cafes and salons are finally available to you. However, somewhere deep down you will continue to scold yourself for spending so much (worrying that your budget will suddenly decrease once again, you'll give yourself a promise to be more careful next time). The month of July will bestow upon Taurus representatives involved in business a great opportunity to significantly raise the profile of their enterprise. You will run an excellent advertising campaign for your services or goods, resulting in an immediate and huge increase of your customer base. This pleasant moment will not only give you a reason for pride, but will also significantly raise the level of your income.
Perhaps the only major issue this month for Taurus representatives will be their own health. Sometimes you will feel that your energy potential has reached not even a zero, but a negative mark. Wanting to regain normal health as soon as possible, you'll ask an unconventional healer for help. Fortunately, it will take you little time to realise that it's rather unreasonable to think that one can regain health trusting such a fraudů
Horoscope for July 2017 for each zodiac sign
Horoscope for July 2017
Horoscope for July 2017 for Taurus