Horoscope for July 2017 for Pisces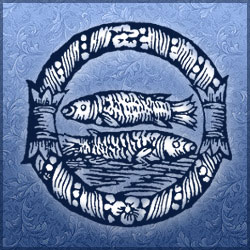 Horoscope for July 2017 promises Pisces representatives a quite challenging, though very interesting period of life. You'll find people, who are not used to set themselves ambitious goals, rather lucky. While others enjoy their vacation and tranquility, you will once again decide to conquer the impregnable "rocky mountains." Of course, this fight will wear you down, but this will make you very close to making your dream come true.
Every day of July is expected to take up on a rapid pace in personal lives of Pisces representatives. If you have been planning to start a new romantic relationship, but still could not find a worthy partner in life, the middle of this summer will make someone special appear in your life, someone, who exactly matches your dreams and fantasies. Attracted by this "beautiful wrapping", you'll refuse to explore the inner world of your new sweetheart. However, with little time passing by, you will realise that this person is still very far from your perfect match, which means that you'll have to "sculpt" your prince or princess yourself. If you are married, the main problem of July for you will become a household routine. In the middle of summer your spouse will decide to implement some very time-consuming and costly project related to personal living space. As long as your house reminds of catacombs or some old ruins of a castle, you and your significant other will begin to harass each other with quibbles and scandals. In short, your spouse will be able to return peace and harmony to your home only when you learn to ignore temporary inconveniences or exercise positive attitude towards them.
The career aspect of Pisces-employees in July is expected to bring significantly large-scale changes into their lives. You will make a lot of effort, before your boss signs the order on your appointment to the promising position at work. This fact (your sudden promotion) will be a real blow for your colleagues (especially for those who have always treated you with undisguised envy). Try not to aggravate the situation by demonstrating blatant conceit! Yes, you have every right to be proud of yourself, but hold your enthusiasm until you reach home. Pisces representatives involved in business, can safely hope for an impressive profit in July. You will find a way to increase the goods turnover at your enterprise, causing an immediate significant income increase. Once this happy event takes place, do not forget to thank people who have helped you (a beautiful envelope with a large sum would be the best gift for them).
The health aspect of Pisces' lives in July is expected to be at a very high level. However, a few times in the middle of the summer you will still experience a bitter disappointment. No, diseases are not in question at this point, the cause of your panic attacks will be an outfit, which will clearly show that you've gained some extra weight.
Horoscope for July 2017 for each zodiac sign
Horoscope for July 2017
Horoscope for July 2017 for Pisces