Horoscope for July 2017 for Gemini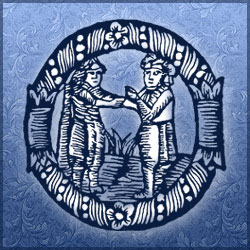 Horoscope for July 2017 strongly recommends Gemini representatives to break away from their rest at least occasionally, in order to carefully assess the situation in other areas of their lives. There's a great risk that while you carelessly lie on a beach, a dishonest person will appear, who will begin to "attack" you on all "fronts" at once! In other words, do not let yourself lose vigilance and caution even for a moment.
The events in the middle of this summer will expose the personal lives of Gemini representatives to regular shocks and disturbances. An unpleasant person from your past will once again appear in your life, and this person will do everything possible to ruin your usual calm. If in the past you and this person have been tied exclusively by a friendly interest, be prepared, that from now this person will turn into your sworn enemy, tirelessly spreading negative information from early periods of your life. If some time ago you and "the shadow of the past" have had a passionate romantic relationship, prepare for a different kind of trouble this time! There's a high risk that the former second half will tactlessly interfere with your current relationship, and will disrupt the harmony in your current relations. Stars predict especially a lot of trouble for you, if the new passion has appeared in your life rather recently (there's indeed a high risk that your partner with the prefix "ex" will be able to destroy this fragile new relationship). If you are married, it depends solely on you how fast your marriage partner will understand that the appearance of your former lover in no way can affect your marriage. Indulge your beloved one with gifts and signs of attention as often as possible, and do not forget to tell him (or her) about your sincere love and affection.
July will remind Gemini-employees what a "bloody war" with dishonest colleagues truly is. Your main rival for acquiring the prestigious post will act rather cynically. This person will do anything to stop the whole team from respecting your opinion, and will also try to prejudice you in the eyes of your superiors. At the cost of enormous effort you will be able to find ways to restore your good reputation, but the anger towards your enemy filling your every cell, will not give you a chance to lower your guard. The month of July will make Gemini-entrepreneurs also defend their positions. However, your business is not expected to suffer any large-scale problems (you'll have to thank your powerful patron for this).
All the July issues will impose a significant imprint on the health of Gemini representatives. The main challenge for you will be a high degree of nervous tension. Try to find a way to overcome this stress as soon as possible, and do not refuse the help from medical experts.
Horoscope for July 2017 for each zodiac sign
Horoscope for July 2017
Horoscope for July 2017 for Gemini