Horoscope for February 2017 for Capricorn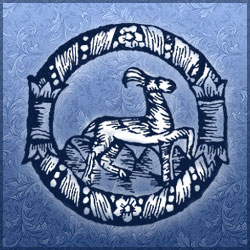 Horoscope for February 2017 promises Capricorn representatives lots of bright experiences, many interesting acquaintances and a whirl of unforgettable emotions. The end of this winter will pass in a glimpse of an eye, and therefore it is not surprising that the only thing you will be able to carve in your mind after these four weeks will be a boundless joy, pride for yourself, and a desire to have this happy period last for as long as possible.
Capricorns will be surprised by many pleasant changes taking place in their personal lives in February 2017! You have never experienced a lack of true friends, and by the end of this winter you will make even more new friends. People you want to confide in with your thoughts and feelings can help you take a new look at the world around you and understand what you really want from life. New friends will be the first ones to tell you that it is not quite wise to conduct the searches for your soul mate in nightclubs and other places of entertainment. Following this advice, you will take a different look at your good old colleagues and realize that there are a lot of very interesting people among them, and you wouldn't mind getting to know them a bit better. If you are married, your new philosophy of life will become an interest in immaterial values. Determined to save family budget, you will offer an unusual scenario for a family weekend (for example, a walk in snowy woods, playing snowballs in the yard or a construction of a huge snow fortress). You will be extremely amazed, when it turns out that these simple fun activities can bring even more positive emotions than shopping or hours spent at the entertainment centre.
February will present Capricorn-employees with a great opportunity to make many important discoveries in everything related to their career. You will understand that a real pro is not the one getting praised by others, but a true expert, a connoisseur of the business, who mostly do not even care what other team members have to say. From now on you will pick up this specific model of behaviour - you will deal exclusively with your direct responsibilities, ignoring the opinion of colleagues. Capricorn-entrepreneurs in February will be able to understand the reasons for their previous mistakes. You will realize why your ideas have repeatedly faced obstacles and hitches, and will finally decide that you will never share your plans with anyone, even with close friends (yet again someone might rip of your brilliant plans).
The end of the winter of 2017 won't let Capricorn representatives find out what flu and colds truly are. Your well-being will remain at its best, which will help you find the strength for both hard work and nice rest. It is quite likely that at the end of February you will want to pay attention to your appearance. Unfortunately, this ambitious desire will burn out after a couple of days sticking to a strict diet.
Horoscope for February 2017 for each zodiac sign
Horoscope for February 2017
Horoscope for February 2017 for Capricorn