Horoscope for April 2017 for Taurus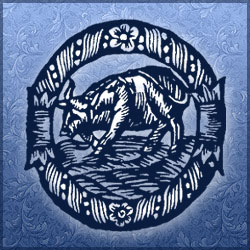 Each Taurus representative will perceive the horoscope for April 2017 in their own way. Some people will really like the complete lack of excitement and drama, and others will find excessive stability a bit tedious. All in all, the middle of this spring will turn out to be exactly the way you want it. However, keep in mind that trying to artificially create even a hint of dynamics, you're putting yourself at risk of causing a lot of trouble and anxiety.
The personal life of Taurus in April 2017 will be very monotonous. Sometimes you will start thinking that you already know in advance who of your friends is going to tell a story, and what story exactly, at any given moment. If you are in active search of a romantic partner, and leave the house only in "full alert", the middle of spring will make you leave all your attempts of making a lasting impression on the opposite sex. Baggy jacket and a cap pulled down to the eyebrows - only this way will make you feel as comfortable as possible, without worrying about the fact that this image is stopping you from starting a romantic relationship. April will force married Taurus representatives to try and improve their relations with older relatives. Realizing that the parents of your second half will respect you only for your actions, you will spend all weekends surrounded by the beds, which have been masterfully created by your mother-in-law, or you might find yourself at a construction site, that your father-in-law has started most probably in the last century. Of course, you will be getting pretty tired every time, but eventually you will be able to raise your credibility in the eyes of your dear relatives. As a result, your better half will experience an incredible delight and will stop arguing with you for no reason.
Taurus representatives swamped with routine company work, will hardly even notice the whole month of April 2017. Continuing the day-to-day diligent fulfilment of all assigned tasks, you will forever abandon your dreams of getting rich or building a fantastic career. However, your own stability and inner balance will turn out to be much more important than the student's dreams and sky-high prospects. And who cares if your salary is not something to be proud of, most importantly is that you are more than satisfied with your team, and the disagreements with your boss almost never occur. Taurus-entrepreneurs in April are also not expected to make efforts of taking their business to a new level. Upon analysing the past and the present of your enterprise, you will decide that a more or less stable income is already not a bad reward for all your efforts.
Health aspect of Taurus' lives in April 2017 promises to give not even the slightest cause for trouble. While your life has taken a rather slowly and steady rhythm, you will decide to get rid of your old habit. Unfortunately, once again, this struggle will not end in your favour, but even this will not cause you any trouble (basically, you will be mentally prepared for such an unproductive outcome).
Horoscope for April 2017 for each zodiac sign
Horoscope for April 2017
Horoscope for April 2017 for Taurus