Horoscope for April 2017 for Scorpio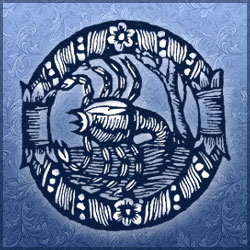 Horoscope for April 2017 warns Scorpio representatives to refrain from excessive hassles and unreasonable haste. Even if at some point you feel that your dream is about to be realized, do not rush chasing after it, forgetting about caution. Only a well thought-through, cautious approach will help you achieve your goals. And most importantly, what you cannot forget about in the middle of spring is simple human relations (do not be afraid to smile at a passer-by, because a smile, received in response will significantly raise your mood).
Personal life of Scorpio representatives will turn out to be in April rather fruitful. If in the recent past you've started a new romantic relation and hope that it will have a bright future, the middle of this spring will not try to convince you otherwise. You and your new passion will carefully study each others features, constantly feeling pure happiness caused by the existence of your new relation. However, April is expected to bring into your lives minor disagreements on several occasions (you will argue over who should pay the bill at a restaurant, or who will sit behind the wheel, and who has the right to relax with a couple of cocktails). Married Scorpio representatives, unfortunately, will not be able to enjoy a similar happiness! You will continue to "develop" a domestic conflict, which broke out in the recent past between you and your significant other. When both of you finally get tired of living on a crater of a volcano, you will decide to close the dispute and arrange a grand reconciliation (it will be of that kind, when the furniture breaks down and dissatisfied neighbours start knocking on radiators).
Financial aspect of Scorpio's lives in April is not expected to cause them any trouble. You will have more than enough money for your current needs, and to pay for loans, and even for pleasant purchases. However, you will not experience any pleasure from the fact, that your earnings hit the average level. Spending more and more time alone, you will keep scolding yourself for the fact, that your personal budget is much less than the one of Bill Gates' or others multibillionaires'. At this point a new obsession will capture your mind - find the ways that will lead you to a stunning financial success, whatever it takes. Scorpio representatives working for themselves will also hardly find the month of April satisfying. Watching your competitor buying a luxury car, and showing off the increased sales for the past few months, you will feel like a student knowing nothing about business development.
April will leave Scorpio representatives no time to exercise an increased care for their own health. Do not be surprised when your body, offended by the lack of attention, will leave you a nasty surprise (prolonged nervous breakdown, insomnia, loss of work ability, or any other psychosomatic disorder). The time of recovery depends solely on you. If you set aside all work related issues and give yourself the right to relax, you will be able to bring your health back to normal without any extra effort.
Horoscope for April 2017 for each zodiac sign
Horoscope for April 2017
Horoscope for April 2017 for Scorpio