Horoscope for April 2017 for Pisces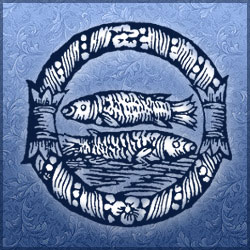 Horoscope for April 2017 promises all those born under the sign of Pisces, a lot of surprises, a whirlpool of emotions and a complete lack of reasons for feeling unsettled. Enjoy your life, since you've deserved it, and do not listen to your envious friends, who in the middle of this spring will start teaching you how to live your life. You are the one creating your own destiny, that's why all the advice received from the outside can be safely sent to the "dustbin".
April will make Pisces representatives face a simple fact: your personal life has taken such a turn, that at this point you have to do something quickly to change it. If you are single, the main difficulty for you is to choose one of several candidates. Analysing who of these people is the best match for your future second half, completely disconnect your mind and just listen to your heart. When it softly whispers to you: "this person gives me the vibe", you will finally have an answer to all of your numerous questions. Mid-spring will make Pisces representatives deal with a different kind of problem. You will be quite surprised when your significant other offers to make an expensive purchase (buy a foreign car, or buy a more spacious apartment). As an answer to your question "where are we going to get so much money?" you will hear "take a loan, you are trusted by all the banks!" This will make you face a fact - either get yourself bound by a credit loan once again or listen to endless hysterics from your second half saying: "everyone around us lives great, but we are the only ones having nothing!"
Financial aspect of Pisces lives in April 2017 will fill their existence with challenging puzzles. The first of them will turn out to be the question of whether the price of an expensive purchase is worth your own peace. The next difficulty that you will have to fight in April will be a choice of bank. You will want to transfer all the savings that you have at your disposal at this point to a reliable bank account, but listening to the stories of your friends about how fraudsters immediately appropriate the property of others, you will decide to act extremely carefully. It is quite possible that in the end, the most reliable "bank" for you will turn out to be a tiny safe that you place in your own house. Pisces representatives involved in their own business will spend the whole month of April deciding whether to raise the salary to their staff. As a result, you will decide that these people deserve to live a little better, and will increase their salary (though such a tiny amount will hardly cause great enthusiasm).
April 2017 will make Pisces representatives realise that their health is not something that can be treated carelessly. Though a sudden worsening of your old illness will not make you rush to medical specialists. However, after a couple of days you will understand that the disease will not go away on its own. You will go to the hospital, and at this very moment you will understand that joking with your own health is not only dangerous, but it's also very expensive.
Horoscope for April 2017 for each zodiac sign
Horoscope for April 2017
Horoscope for April 2017 for Pisces