Horoscope for April 2017 for Capricorn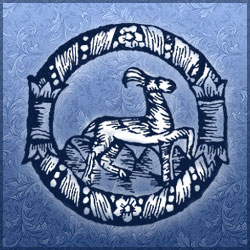 Horoscope for April 2017 suggests Capricorn representatives to take long walks as often as possible, engage in some physical exercises, and also find something positive in current events. The results of April depend solely on you. If you allow yourself to whine and mope, mid-spring will turn for you into a very difficult test. If you ignore minor routine failures and the fact, that very often events do not follow your own script, you will be able to keep a balanced emotional state and even succeed in one of the aspects of your life.
Personal life of Capricorn representatives in April is not expected to be dramatic, anxious or cause any large-scale issues. If you're looking for your soul mate, mid-spring suggests you to seek help in your old friend. This person, who has recently got married, will certain have contacts of some attractive and interesting people of the opposite sex. If you overcome your inborn shyness and take the first step to getting acquainted with the new person, one of these people has a great chance of becoming your second half. Capricorn representatives that have already got married or just started a strong relationship, will spend the month of April rather eventless. Your marriage will grow quite dull, and monotonous routine will completely settle in the walls of your home. Neither you, nor your beloved one will express even the slightest desire to somehow "shake up" such a monotonous relationship. Unfortunately, such a scenario will have not the best impact on your marriage! It's up to you and only you to decide whether you are ready to simply let go of the situation in one of the most important areas of your life...
On the other hand, the financial and professional areas of Capricorns' lives in mid-spring of 2017 will not give them a possibility to get bored or relaxed! Though there's no need to panic, since you will be surrounded by solely positive events. If you are an employee at a company, April will provide you with a fascinating business trip. You will spend just a few days away from home, but this time will help you take a break from monotonous routine. Mid-spring will force capricorn representatives involved in their own business to make a very important decision. At the beginning of the month you will receive an offer from your former business partners. Weighing all pros and cons, you will decide that at this point this is not the time to bet on your life savings. It is quite possible that excessive caution will turn into an obstacle on your way to rapid enrichment, and you will later blame yourself for such a decision.
April of 2017 for Capricorn representatives is not expected to make them face any major health related issues. Your inner energy will be at a rather high level, which will make you decide to return to some long-forgotten projects (you will once again try to quit smoking, get back to keeping to a diet, or will acquire a subscription to a pool or join some fitness classes).
Horoscope for April 2017 for each zodiac sign
Horoscope for April 2017
Horoscope for April 2017 for Capricorn