Horoscope for August 2014 for Sagittarius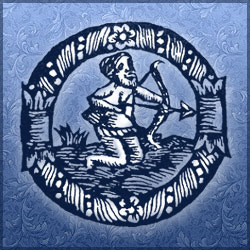 Sagittarius, the Sun, Venus, Mercury and Jupiter are watching over you from Leo. Your house of politics, religion and education needs to be dealt with. There is a chance you will want to take time and register for classes, go to church, or listen to a political speech. If you decide to preach, teach or argue, you will be listened to.
Your house of far-off places is where all the planets still in Leo will stay for a bit. You loved some of the places you visited in your youth and now you want to go back. You have forgotten the difficulties in had in foreign lands, but that is good, Remember the wonderful times you had and start saving today, August 1st, the get back there.
Planets moving through your house of higher education are trying to talk you into going back to school or doing something more with your career. You can talk about your life with others and they will advise you that it is time to move on. Whether in school, in world travel or with a new group of friends.
The new moon on August 25th moves through your house of career. You may be offered a higher position in your career or you may be asked to make a move. Show your boss and supervisors what you can do. You have made sure you always did a wonderful job; now is the time to be rewarded.
Tremendous days for you Sagittarius are the 2nd and 3rd of August. You will be noticed by many in your office and the attention will be confidence building. On the 6th you are still walking on clouds and on the 8th you are presented with a plaque for your outstanding service. The 12th brings you an awesome fun day with family and friends. On the 15th your family reunion is going strong and you are having the time of your life. On the 21st take the time to listen to your elders as they tell you about their lives in the Great Depression. It will be enlightening. On the 25th finish up all the jobs you have to do and take the rest of the month off.
Challenging days Scorpio, include the 1st of August when new assignments come your way and you really don't want them. On the 18th you will be challenged to stop gossiping and hurting feelings, and on the 23rd you will say goodbye to your best friend. On the 24th there is no more time to get your work done. It is this afternoon or never. On the 26th you are challenged to make up with a love and apologize for your ways. On the 27th you will be challenged on the road. Road rage is never a good thing. On the 29th get out of town before you can move no more.
Horoscope for August 2014 for each zodiac sign
Horoscope for August 2014
Horoscope for August 2014 for Sagittarius