Horoscope for May 2013 for Sagittarius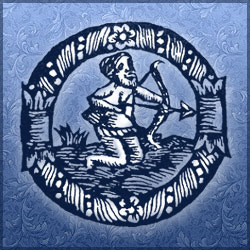 Your journey through life and particularly through the month of May 2013 Sagittarius is the excitement. You don't particularly care about the destination but getting there is the real meat of the issue. This travel may be though books or philosophies and is most definitely though driving, learning and thinking. You are a happy go-lucky visionary and want to find the pot of gold at the end of the rainbow.
You can make any month positive Sagittarius. You are going to be in control in May 2013 with a dynamic and active attitude. May 2013 is a very vibrant period when you find opportunities for growth in relationships and in work. You will be surrounded by those who wish you well and who want to be on your side. You may find that this happy phase lasts until the middle of May 2013 when you are able to sort things out. Just stay positive and you will experience very comforting trends.
You have a tendency for stress Sagittarius that may run throughout this month. You need to guard against the stress that could ruin your day. You might find that your expressions and speech could create misunderstandings. There are controversies in the atmosphere that will make you say something very weird. Caution is needed though the month of May 2013 and particular around the 15th through the 17th.
Your career is awesome today Sagittarius. There are going to be some challenges after the 10th of May and a few misunderstandings might come about. However you will not fall from your position if you remain clear in your communications and stop the comments that might just cause you to be held in a bad light by your superiors.
Keep working hard and growth and expansion plus bonuses and promotions will be yours at the end of May. You may have a teammate that commits mistakes. You might end up paying for these mistakes if you are not careful. Document everything you and others on the team do. Communicate with your tem and let them know you are the spokesman. If you let others challenge your position you will have a difficult time getting back the team's admirations.
Love matters are okay until the 16th of May when they take a turn for the better. Your sex appeal is high and your social calendar is going to be very busy. After the 16th of May 2013 you might want to take a vacation and stay under the covers for a day.
If you are in an existing relationship you will find that everything is status quo. There might be aggression between you and your partner if you live together or are married. You will want something and they will expect something and issues of"who does what" will escalate.
Money will be great and the most wonderful thing! You will have some left over at the end of the month. You will be able to make good gains this month and find that your budget is just about perfect. If you make mistakes in terms of investments you will come out okay. Do not speculate this month, however. Avoid risky investments.
Health is going to be positive. You will need to continue going to the gym and eating right but these will pay off in the long run. There may be chronic ailments that cause concern in May, but if you take care of them you will survive.
Horoscope for May 2013 for each zodiac sign
Horoscope for May 2013
Horoscope for May 2013 for Sagittarius