Horoscope for March 2013 for Taurus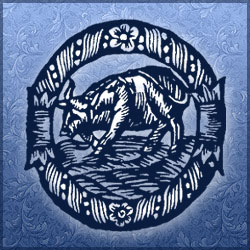 March for Taurus has you looking forward to the 17th of March when Mercury turns direct in Pisces. This is you eleventh solar house. You will need to take the initiative to mend misunderstanding with friends that occurred during the past few months. Reschedule dates and events that you cancelled. You will have good new good news given to you on the 7th of March that will put a smile on your face.
You social life will benefit from the new Moon in on the 191th of March .This is great day for networking and involving yourself in group activities .You could be the shining star in an event. Your humor and dry wit will take you far. Step up and take the lead with a relationship. Don't be dismissive and find the best ways to consolidate and cement your relationships.
Months' end will bring challenging days at work. You will find that they are many runs and duties that you just cannot seem to get a handle on. This will infuriate your superiors and they will begin to doubt your commitment. There may be someone on the 27th who is trying to undermine your position at work. You will be called for jury duty and this will highly impact what you need to do at work and home.
Make sure you are extra cautions during the second half of March. You will need to prevent colds and flus. You will also need to prevent falls may break bones or cause a concussion. Mars will move into Aries and your solar twelfth home on the 12th and you might become run down due to a lack of sleep. Try and relax more and don't wear out your welcome to someone else.
Your rewarding days in March include the 1st, 7th, 10th and 14th. The 15th as well as the 16th and 21st can bring you a great sense of peace and relaxation. Take advantage of these feelings.
You will be highly challenged on the 2nd and 6th as well as the 38th and 12th. Do not venture into adventurous or strenuous activities on the 25th of 27th of March.
You will have to retain a measure of flexibility this month as well as during hte rest of the year. You are entering into paths that you have never been before. You may feel inadequate, but just hang in there.
Weed out impossible dreams and impractical goals. You can't do everything you want especially with the goals you are trying to fulfill during the first half of March.
When Uranus entered Aries on March 11th you had some much unexpected elements enter your life. There are events that can be either very good or very distressing depending on your state of mind. Make sure you know what you want before jumping in with both feet.
Learn by trial and error how to keep a relationship alive. It is not all fun and games and sex and pleasure. It is compromise, caring, loving and being a team player. You are definitely not a team player - you want to be the dictator. Change quickly!
Horoscope for March 2013 for each zodiac sign
Horoscope for March 2013
Horoscope for March 2013 for Taurus