Horoscope for March 2013 for Capricorn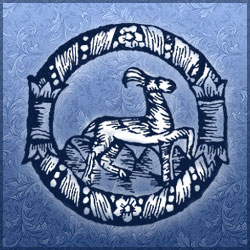 Earth signs are practical and conservative. They live in the tranquility of their home lives and love ruts and routines. You are an excellent planner and love to organizer you life. This is a great trait, but one that can be a little annoying. Stay away from trying to organize Cancers; they have their own agendas.
You are a cardinal sign and you have the intuitive to put plans into action. You try to think through every little thing first and do not make decision unless you have thought through them for hours. If you argue with your partner you are always right and you will pout until you get your way.
You are highly frugal, very compassionate, and have charisma oozing out your pores. You will do great in your chosen profession. Don't forget those at home; they are people, too.
On the 17th like all other signs life will get back to normal and you will be able to work without interruptions. Start organizing on the 7th and again on the 28th so you will be ready for the very busy part of your life. Make sure you are all buttoned up in all your business dealings.
You will connect with many new people during March. On the 11th there will be high emphasize on communication. You will find that people are highly supportive. A meeting that takes place in early March will net you positive results in a couple of weeks. Be patient, but be hopeful.
You are pushed and pulled a the March 27th full moon in Libra with Pluto in your sign. You will have a difficult time balancing career and domestic responsibilities and your spiritual duties will be highly distractive. You will have a hard time being organized but you will get through it. Look to friends and family for help if you cannot handle all your responsibilities.
Change will occur this month since this is the month of change. A close relative will require your assistance which you will freely give. Do not begin a home improvement project during March, Capricorn. It will not turn out well.
You rewarding days in March are the 1st, 2nd, and 7th. The 10th is highly lucky and the 14th will be particularly fun. On the 16th mind your ps and qs, but have a great time. The 21st, 25th and 26th will be lucking and you should be excited for t5th and 30th of March.
Stay away from cars on the 4th and 5th, and work in your office on the12th and 17th. Don't get out of bed on the 20th and 22nd, and sit by the fire on the 27th and 31st.
Horoscope for March 2013 for each zodiac sign
Horoscope for March 2013
Horoscope for March 2013 for Capricorn