Horoscope for February 2018 for Gemini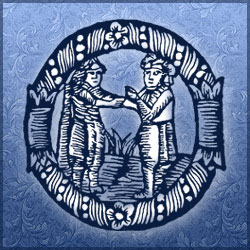 This month is all about your 9th house of expansion, freedom, travel, philosophy, and adventure. You might find this newfound energy somewhere else in the world, or even in your own home! The Universe has funny ways of operating, so be prepared for a fun month of February, lovely Gemini!
The Sun begins in your 9th house in Aquarius. This house is one of expansion and higher learning, ruled by the freedom-loving Sagittarius. You will be very interested in exploring the world around you, opening your mind to different ideas, and stepping in another's shoes this month. It is a great time to meet new people or even do something you never thought you could! Take a risk, lovely Gemini. You never know what can happen when the cosmos are at play. On the 18th, the Sun leaves your 9th house and enters your 10th house of career and professional achievements. You might shift your focus from freedom to that of work, in hopes that you receive something you have been working towards within your job. While this alignment gives you the confidence to be assertive and willful at work, do not let your career overtake you this month. It is important to find balance and harmony!
Since January, Venus has been in your happy 9th house of travel, freedom, and expansion as well. This is quite an adventurous time for you, Gemini! Venus in the 9th is all about seeing the beauty in differences and changes. You might be particularly drawn to art that is astray from your normal palette. You might also find different music that suddenly captures your ears' attention. Because Venus is the love planet, you might also be more attracted to those who are foreign, have a different ethnic background than you, or speak another language. Mercury has been in your 9th house since the end of January as well, so you might even be inclined to speak another language as well! You will be extra astute when it comes to complex philosophical and theoretical subjects, too. People who are highly intellectual and conceptual will grab your attention to the most now. On the 10th, Venus moves into your 10th house of career. You will certainly be very well spoken in the workplace, and your colleagues will notice the true essence of your work ethic and projects. It is a great time to approach bosses and supervisors about a raise, and you might even want to discuss the possibility of a promotion. Your career is on the rise, so you deserve this, generous Gemini!
The middle of the month will be quite active for you. On the 15th, there is a new moon partial eclipse in your 9th house as well. This alignment encourages you to understand how freedom is an important part of compassion. How can you free yourself from ideas and feelings that chain you down? In what ways do you hold yourself back? Understanding that you also set an example for others, what advice would you give to your best friend in this situation? The new moon is all about creating a path from a clean slate. In addition, Mercury in your 9th house sextiles Uranus in your 11th house. You might meet someone new in a group of friends or colleagues, and you will certainly be inspired today! Keep your eyes and ears open, as the planets have something exciting in store for you. Two days later on the 17th, Mercury moves into your 10th house of career and professional recognition. You will be a master speaker and communicator at your job, and you might even be called upon to do presentations or run important meetings. Whatever the task is, trust in yourself and your communication abilities to handle the job right!
All month, Mars will be in Sagittarius, your 7th house of love and one-on-one relationships. If you are in a relationship, you might likely feel more active with your partner, as Mars increases your level of energy in this house. You might feel more possessive of your lover, and feelings of jealousy may arise if something pokes at this insecurity. You might even be hot-headed in challenging discussions, as Mars is fiery and competitive. As a positive, you will be eager to solve problems with your loved one, always wanting to come to a peaceful conclusion. Mars can be filled with friction, but he is also sexy and primal in the bedroom.
Saturn has been in Capricorn in your 8th house since December. After Saturn in the 7th house, you have probably experienced a lot of changes and challenges within relationships and partnerships. It is normal during Saturn's alignment here to have to let go of certain people in order to grow the self. Saturn in the 7th sets you up for Saturn in the 8th house. Initially, this alignment can feel really scary. The 8th house rules sex, death, and finances to a degree, so a lot of big aspects of your life are involved here. Saturn is here to teach you valuable lessons about your relationships with these parts of you. How does sex play a role in your life? Is it for positive gain? Do you feel secure within your sexual identity and freedom? In order to answer these questions with a clear mind, the Universe encourages you to release any feelings, negative or positive, and express yourself fully. Do not be afraid, dear Gemini! You are supported and loved here.
Jupiter remains in your 6th house of work and responsibilities. This is a lesson of finding happiness in the little things. While your job and tasks can often feel mundane and pointless, Jupiter inspires you here to see the beauty and purpose within these parts of your daily life. Your duties might expand over the year, and you may find a different path to your professional life. Jupiter is open, free, and expansive in this house!
Horoscope for February 2018 for each zodiac sign
Horoscope for February 2018
Horoscope for February 2018 for Gemini