Horoscope for September 2017 for Sagittarius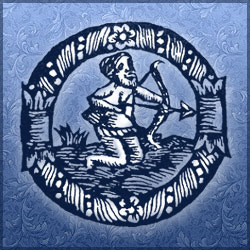 Horoscope for September 2017 for Sagittarius representatives is quite succinct. Quite a few bright events will highlight you life at this point, which will make you once again recall what monotony and boredom are. Gradually you will begin to grumble that you are tired of spending every day according to an annoying scenario. At the same time, you won't make a single attempt to paint your dull life with bright colors.
Sagittarius representatives in September will show the least interest towards the events happening in their personal lives. Not experiencing even some interest from the opposite sex's end, you'll simply give up on what impression you make on others. More often you'll go outside paying hardly any attention to what you're wearing, and the diet you've started in the recent past, will be forever forgotten. In short, you will stop taking care of your looks and will abandon all your efforts of fighting your loneliness. Not surprisingly, that only romantic novels will be able to fill your heart with thrill and excitement in September. If you are married, you won't have to feel sad because of the lack of attention to yourself. Your wonderful and loving marriage partner will be as always by your side, and therefore at least some interest towards you is guaranteed. At the beginning of autumn you'll absolutely refuse to leave your comfortable home to visit some friends or to visit your beloved one's parents. Feeling melancholic, you'll prefer solitude to tedious conversations on boring topics with people, with whom you have been fed up for too long now.
September is unlikely to make Sagittarius representatives show any special enthusiasm towards their financial and professional aspects of life. If you work for a company, this inert attitude will prevent you from developing your career. Meanwhile, some of your colleagues, who are a lot more initiative, will take the position you've been dreaming about a lot. Unfortunately, even this moment will not be able to pull you out of your cozy "shell", in which you can easily continue to hide from the outside world. This September apathy will turn out to be for self-employed Sagittarius an improper luxury! Noticing that your business has almost completely suspended its growth, your competitors will launch a massive PR campaign of their services or products. It is quite possible that, tempted by expensive advertising, many of your customers will run off towards the "enemy camp", which will affect your profit, making it significantly smaller at once.
Sagittarius representatives in September will devote little attention and energy to saving their health. To be precise, you, in the absence of any noticeable health related issues, will completely refuse to do anything for your body. At this point this approach is not expected to do you any harm, but there's no need to overuse this method! Especially, when it's already autumn outside, meaning that the next round of seasonal colds is just round the corner.
Horoscope for September 2017 for each zodiac sign
Horoscope for September 2017
Horoscope for September 2017 for Sagittarius