Horoscope for September 2017 for Pisces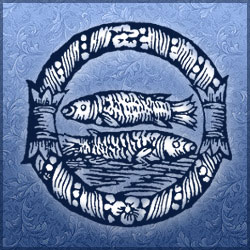 Horoscope for September 2017 Pisces representatives will read not hiding a yawn. Your life for the next four weeks will somewhat freeze, meaning that bright events and a whirlwind of emotions will fill your life only with the help of television. However, stars are not going to give you a chance to get bored, since your sad routine in September will be regularly diluted by your friends' requests to provide them with all your possible assistance.
At the beginning of this autumn Pisces representatives will devote very little attention and effort to the settlement of their personal life. If you are single, September will bestow upon you a great chance to start a new romantic relationship, but for some reasons you're not going to use it. First of all, you will get confused by the social status of your potential second half (it will be either extremely high or so low that you'll be too shy to voice it aloud in the presence of your beloved ones). The second reason for your refusal of getting a bit closer with your new acquaintance will be the problems of your close friend. While your friend is trying really hard to overcome the ordeals that Lady Fate has granted him or her, you'll find it your duty to be with your friend, instead of engaging in "building" new romantic relationships. Married Pisces representatives will also spend a lot of time, money and energy on eliminating their family members' issues. It is quite possible that a relative of your second half will ask you for help. Forgetting, that in the past you and this person have been linked by mutual dislike bordering on hatred, you will rush to his or her aid. The reward for all your efforts will be a sincere "thank you" and a touching recognition, when this relative will apologize for his or her previous behavior.
Pisces-employees will spend the month September in a melancholic and relaxed way. You'll slowly get to solving your current business related issues, forgetting about rush tasks, working late or ruined weekends. Of course, the eventless month of September is not likely to spoil you with a salary raise, but even this moment is not going to evoke any negative emotions (you will comprise such a thorough list of expenses, that even your usual salary will be quite enough to cover all the expenses). Pisces representatives involved in their own business, will address their professional matters with much more enthusiasm and zeal. A meeting of your old friend will become an incentive for your future victories. You will learn from him (or her) an interesting story of their personal journey to recognition and success. This monologue will turn into an endless source of inspiration for you, and you'll decide to immediately proceed to your business promotion and development.
The month of September will fill Pisces representatives with tremendous bursts of strength and energy. You will be glad to realize that you do not have any major health related issue. Yes, your extra weight will still annoy you, but every day will be taking you farther away from thoughts about dieting, hunger strikes and other "ways torturing" your body.
Horoscope for September 2017 for each zodiac sign
Horoscope for September 2017
Horoscope for September 2017 for Pisces