Horoscope 2017 for Sagittarius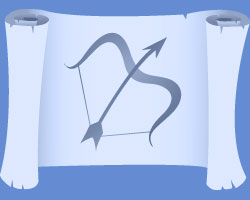 In the 2017 year of the Rooster calm and balanced Sagittarians will receive opportunities to actualize an array of interesting ideas and plans. Members of this sign will become engineers of sensible ideas that facilitate their personal growth and professional development. This year Sagittarians will find many new hobbies which will diversify their lives and make them more exciting and fulfilling. The active and ambitious Sagittarius will always be in motion, hurrying somewhere, meeting with someone, doing something. Such an energetic dynamic will bring members of this sign to their desired goals closer to the middle of the year. So be prepared to work with diligence for the first six months of the year, so that later you can relax and allow yourself a quality vacation. Try to get outside of your established routines and try to make every day different from the previous one. The first half of the year will bring Sagittarius many appointments, new acquaintances, many pleasant and joyful moments - because of these Sagittarius will become even more positive and goal-oriented. Despite the playful nature of this sign, Sagittarius always knows what he wants in this life and thus, it is easy for him to advance step by step toward his dreams. 2017 will give you all that you need to materialize your plans for life, to actualize your ideas and gain new heights. Just try not to hurry and not to undertake hasty decisions. The more measured and thoughtful each of your steps, the more you will be able to gain from life.
General forecast for 2017
Sagittarius will radiate unbelievable energy, which will attract the attention of many influential and interesting individuals. Thanks to such publicity, you will find many excellent opportunities, which will transform your life and affect practically all of its spheres. A particularly useful trait for members of this sign is their ability to objectively evaluate the current situation - even with their own problems and issues, you can observe as if from a distance. Such a relationship with life problems allows for more correct choices and the avoidance of mistakes. Your impartiality and sense of justice will become true companions along the path to success. You easily are able to control your feelings and emotions, words and thoughts - Saturn retrograde speaks to this. Worldly matters and everyday problems rarely concern you because problems that are deprived of emotion turn into typical situations, which become easy to deal with. The stars promise that Sagittarius will find the greatest success in group social activities because their communication skills and good judgment will become invaluable in directing others. Others will listen to your opinions and will remember your word above the rest.
Career and finance: Forecast for 2017
People born under the sign of Sagittarius will not have to search hard for a way of achieving their goals. A string of events which will occur in the first half of the year will automatically do everything for them. Fortune will accompany Sagittarius with every step and all their actions will be correct and effective. Their results will speak for themselves. The position of the planets will have a fortuitous influence on the ability of Sagittarius to make balanced and thoughtful decisions, guided only by commonsense. Career-minded people never give themselves a goal of progressing along their career path - with a reasonable approach this just happens on its own. The same will happen for those who seek to open their own business or get situated in a high-paying challenging job. In the year of the Rooster Fate herself will give you many opportunities, thanks to which you will realize your desires. If you are offered the director's chair, before you accept, evaluate your possibilities and the level of responsibility. Will you be able to handle the load? If you answer in the affirmative, then you may boldly accept the offer and be content with your prestigious position.
Family and love: Forecast for 2017
Although Sagittarians are excellent at controlling their emotions and feelings, like all other people they also want to be next to a person who can give them the feeling of security, support, care and attention, and who can help them avoid loneliness. This is why members of this sign can see in practically each new acquaintance a potential partner for life. The stars advise avoiding this situation and stop trying to make something out of nothing. Every person on the planet has their other half somewhere, and sooner or later the moment when they meet will come. If you stop trying to force the situation, then you can save yourself from disappointment, sorrow and hurt. Sagittarians with families will find many pleasant impressions to share with their families this year. Try to give more time to them. They especially need and desire guidance and support at this time.
Read:
Horoscope 2017
Horoscope 2017 for Sagittarius for the year of Rooster
The 2017 horoscope brought to you by Horoscope-For.com - free 2017 horoscope for the year of the Rooster.