Horoscope 2017 for Gemini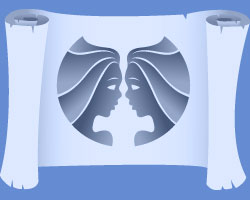 In the 2017 year of the Rooster, those born under the sign of Gemini will receive many new and interesting opportunities, which will allow them to fundamentally change their lives in a more positive direction. What you have only dreamed about for ages will become reality. Those plans, which you have built, those dreams and desires, will materialize in life under the condition that you stubbornly aim toward achieving your goals, gather all your patience and be ready to wait for your results. What bothered you last year will become unimportant to you now - you will reevaluate the values in your life and look upon your life with new perspective. As early as February Gemini will experience a powerful wave of energy and inspiration, which will have you soaring in the skies, building plans and reworking strategies for the execution of those plans. It is in this period that a long string of connections with interesting and successful people await you - the ideas and experiences of these connections will fundamentally influence your worldview. In this year Gemini will become more confident in their own personal power and opportunities, they will begin to act with firm intent in their own best interests and achieve excellent results, which will guide them in new accomplishments and feats. For creative individuals April will bring a lot of success and good fortune. At this time the movement of Saturn and Jupiter will have a positive impact on their intellectual pursuits, the result of which will be that productivity will increase several fold. The most fruitful times will be the first six months of the year, so plan vacations and other activities accordingly in the second half of the year. At that time Gemini will receive an excellent opportunity to set aside professional issues and work on the improvement of the quality of his or her personal life.
General forecast for 2017
The exuberant and energetic Fire Rooster will reign over the entirety of 2017, and so all dreams will definitely come true. Life for Gemini will be harmonious, well-balanced and filled with exciting events. You will have no time for fretting, and there will be no time to waste at all. Every minute for Gemini will show itself to be a bright and valuable life development. All of this will influence their worldview and will facilitate transformations in goals and priorities. The year 2017 will become a year of painstaking work and will build a long list of accomplishments. A Rooster is nothing if not a fighter. He will never allow you to pass up an opportunity, which can be used to bring you closer to your goals. The most important thing is to keep close tabs on each of your actions, excluding the possibility that unforeseen circumstances could cripple you later on. For the first half of the year astrologers recommend that you devote your time and energy to routine work, figure out the everyday matters, and only worry about the realization of serious and important projects beginning in August. At that time the positioning of the planets will facilitate fortuitous and successful solutions in the professional and business contact spheres of life.
Career and finances: Forecast for 2017
The majority of Geminis will choose to change the nature of their profession or to pursue a different field of education or specialization in this year. This is completely understandable because in the first quarter of the year Geminis will run into circumstances that will entirely change their relationship to life and bring them to the conclusion that the greatest success can be found only where one feels a sense of personal satisfaction. Already by the beginning of spring the Twins will begin to reevaluate different options and try their hand at different things in the search of that which fits their soul's calling. Only after they have definitively pinpointed their desired profession will it become possible to search for a job opening. The stars advise you to avoid trolling the internet in search of jobs, instead use the more trusty method of relying on relative, friends and close acquaintances. The astrological forecast says that practically all Geminis, who have decided on a fundamental change in their lives, will be able to find their calling and realize their potential. An added satisfaction will be that Geminis will also receive optimum financial rewards for their efforts. This may be through a decent wage or through a premium side job. In any case Geminis will not experience the kind of financial instability in the year of the Rooster that they did last year. Your money issues will get sorted out, just don't rush out and make any unforeseen and unplanned large purchases.
Love and family: Forecast for 2017
The stars advise all Geminis to avoid being too picky or demanding of your loved ones. Even if something about their behavior or actions is not to your liking, try to understand the reasoning for such behavior. Your family and loved ones love and value you a lot, so try to relate with more attention to their feelings and worries. Single members of this sign should expect romantic friendships which will grow into something important toward the autumn. Only don't hurry or rush such occurrences, let everything happen at its own pace. Your happiness is quite close. Be patient.
Read:
Horoscope 2017
Horoscope 2017 for Gemini for the year of Rooster
The 2017 horoscope brought to you by Horoscope-For.com - free 2017 horoscope for the year of the Rooster.