Horoscope 2017 for Cancer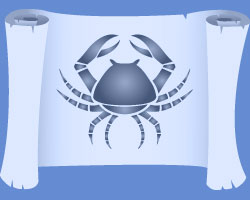 The year of the Rooster 2017 will bring Cancer big changes in their inner world. Preceding such changes will be incidents already in the beginning of January, including possibly fated meetings, acquaintances or proposals. In any case after these occurrences your inner world will completely change. You will begin to value and respect yourself, reevaluate your life goals and see the world through a partially different lens. Cancerians will understand that what they have strived for, worried about, and worked for is actually not that important. You will gain confidence in your own strength and will trust that in life anything is possible, as long as your desire is true. You will treat those around you with more respect, give more attention to your parents, children and life partners. For you, family, friendship and personal connection will be your first priorities. All business interests will lose their importance, and soulful harmony will become primary in your life. Cancerians will begin to build plans, which fundamentally differ from those which they built months ago. The essence of these plans will be the most striking difference, as Cancerians will be searching not for increased profits or improved prosperity, but for fulfillment and satisfaction. All Cancerians will need to first and foremost let go of their past, stop looking far into the future and throw out all garbage from your home and from your mind. This will help cleanse the flow of new positive energy, which will give you continued well-being and happiness.
General forecast for 2017
In 2017 Cancerians can expect complete reincarnation. Under the influence of aspects between Jupiter and Mercury, their lives will be filled with absolute harmony - they will begin life anew with complete agreement between themselves and their surrounding environment. The majority of Cancerians build their lives from past experiences, and only sometimes out of positive ones. This is why the life of a Cancerian resembles a closed circle, which only in this year you will be able to break free of and boldly accept Fate's gifts. Fate will thus coddle you, but only after you have rid yourself of the baggage of the past and your uncertainty that you deserve a better life - only then can you begin to build new plans for this year. You will understand that you've already lost too much time, and that you could have made this step years ago. But regretting this loss is a waste of time. In the end you've gained experience and good lessons and now you may value what life brings you in this year. Already in April you may come to the execution of your ideas, only don't rush things. Fulfill your duties gradually, come to the next task only after finishing the previous one. In this manner, your life will be under control, you will rationally use all of your potential and resources, which will increase the productivity of your efforts.
Career and finances: Forecast for 2017
Influenced by strong internal changes, Cancerians will doubt whether their decisions are correct. And many members of this sign will prefer to find the kind of work to which they can rush joyfully every morning with a smile. The wage for one's work is utterly unimportant, because potential opportunities will open only when a person is putting his heart and soul into his work - an impossible task when one's work seems like hard labor. The stars advise listening to your inner voice, your inner feelings, and letting your intuition guide you - it will not give you the chance to make a mistake. You will be offered tempting propositions in this year, but don't make a hasty decision. You will have enough time to choose that which truly suits you. And if you carefully consider your every step and action, then the year of the Rooster will not only bring you supreme fulfillment, but will also improve your financial position.
Family and personal life: Forecast for 2017
Under the influence of Venus, the Red Rooster will make the personal life of Cancerians very interesting and fulfilling. Lonely Crabs will be able to count on serious relationships, which will appear before the end of this spring. From the beginning of the year Cancerians will be surrounded by the attention of the opposite sex. Their charm and life force will leave no one indifferent. But you will find not only a sweetheart, but also many new friends. To those Cancerians with families, the stars advise you to give more time and attention to your household, and to treat your spouse to more surprises. In this year you will invest more effort into raising your children and into connecting with your relatives and parents. The Crab is very sensitive, and they always notice each hidden desire and each emotion in people around them. They will always do everything they can to ensure that their loved ones feel comfortable and taken care of.
Read:
Horoscope 2017
Horoscope 2017 for Cancer for the year of Rooster
The 2017 horoscope brought to you by Horoscope-For.com - free 2017 horoscope for the year of the Rooster.