Horoscope for May 2015 for Sagittarius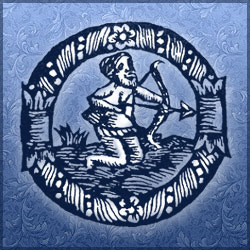 In May 2015, the behavior of Sagittarius can be compared with the rituals of shamans in tribes far from civilizations. Warlocks arrange strange dances, songs and strange melodies by knocking on the tambourine, but in the end, the rivers are flooded with fish, the hunters do not return with empty hands and the children are born healthy. If the actions associated with the shaman are required for successful events to occur is not clear, but the result is the result! Similarly, the actions of the Sagittarius will seem illogical, abstract and meaningless to the rest of the zodiac signs, but positive changes will start to creep into their lives step by step. In love, the owners of a bow and arrows will refuse the role of generals and shy away from the frontline, preferring to sit out the dangerous time in the rear. You are more attuned to inner contemplation rather than to conquering the heart of another person. Those people who have already found their soul mate will live a calm month, they will not want to change the settled way of their life and the established order of things, so it will be difficult to convince them to even dine in an unfamiliar restaurant, let alone something more serious. However, the Horoscope advises you not to go into yourself completely. Otherwise, you'll miss many important events. In May, you will have to grow up and stop playing the role of a slave in a relationship, or someone else's view of the situation will lead your couple no one knows where. Stop looking at the romance as exclusively communication between men and women and try to open up to another partner as an ally and an adviser. Those Sagittarians who see these features in a loved one will be able to strengthen and reinforce their feelings, making her a couple virtually invulnerable to external influence. Neither the whispers of unhappy mothers-in-law, nor subtle hints from envious neighbors, nor incomprehensible likes in social networks will be able to undermine your relationship.
In the late spring, Sagittarius will have plenty of time to devote to companionship. If you have never looked for former classmates and colleagues on social networks, in May you will want to do just that. In the end, you'll spend lots of time on informal conversation, discussion of the bygone days and wonder over the photographs of those people whom you remember being young and slim. This month promises a number of interesting meetings with old friends and if you open your inner world to change, you will still endow yourself with some new acquaintances. The money is now better taken easy, without make it an idol, but without throwing it to the wind either. If you do not fall into an intellectual coma as soon as you cross the threshold of the shopping center, you have nothing to worry about. You are able to control your behavior and are unlikely to buy the latest five packs of Christmas lighting that is although expensive, but at a discount. Those people who upon seeing signs of «sale» lose the remnants of self and common sense are better shoppers when accompanied by a cold-blooded person (mother, lover, or friend) who will be able to control a shopaholic's purse and escort them home at the right time.
Work will present the Sagittarius with no surprises in May 2015, but the representatives of this zodiac sign will not particularly upset. Our bodies need a break and in the late spring they will get it. This month, you should opt for the easy way of solving problems and do not pull too heavy of a weight uphill. Otherwise, there is a risk of overstraining and falling down into the ditch. It is likely that the people who will be in their peaceful state will find a new hobby that will become an additional source of income. Relationships with colleagues are going to be rosy and serene. In an effort to earn the universal love and respect you will try to please everyone. Of course, all around the charm does not work all the time as in any profession and in any capacity there is a conflict of interest, but many people will get into your network. The main thing is that while you are thinking about your colleagues, do not forget about yourself. Otherwise, there is the risk of becoming a loser in the office and being immediately forgotten when it comes to the distribution of awards for work performed. In the late spring, the Sagittarius will have mood swings. It is only now that he felt himself master of the world and the pinnacle of evolution, but a minute later he mentally talks to himself about the worthlessness of his existence. Such sentiments suggest that something gnaws and eats you up internally, while you stubbornly refuse to admit to yourself that you are in trouble, drowning out the negative with artificial optimism and cheerfulness. In May 2015, do not be afraid to lose a good mood, fear losing yourself and melting together with the mask we wear in front of other people!
Horoscope for May 2015 for each zodiac sign
Horoscope for May 2015
Horoscope for May 2015 for Sagittarius