Horoscope for December 2014 for Sagittarius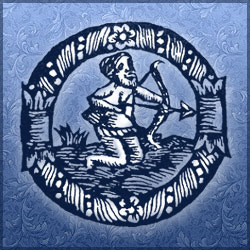 Sagittarius, as Venus, the Sun and Mercury move into your house of appearance this month you will be very aware of how you look before leaving your home in the morning. On December 2014 10th you will feel so good, your philosophical side will come out, and you will be spectacularly funny. Do have fun on this day; you are quite the center of attention.
On the 6th of December 2014 the Full Moon moves into Gemini and activates your house of relationships Sagittarius. The first impression you make will be how you are perceived for the rest of the year. Someone you have been thinking about will appear on your horizon making you extremely happy. Go with the flow and the feelings. You never know what will happen.
You are a gambler Sagittarius and December 2014 is no exception. Don't try to make a living gambling with investments and money, but do take an occasional break from the regular routine of paying bills and saving money. Avoid spending the mortgage payment at the casinos, however.
Around December 23rd, Saturn will move into your home of intelligence. You will begin to think seriously about the future and the big picture plans you need to make. This is the time to make resolutions so make sure they are real. You career opens up and you will be able to see what it is you need to do in life. Wonderful predictions abound for you Sagittarius in regards to finance and money matters.
No so great days for you in December 2014 Sagittarius include the 1st. You tend to get a slow start when starting out a month and December is just the same as the other eleven months. Things don't get done on time and you are a bit under the weather. The 15th is trying. You are too tired to do anything at work and home is in a shambles. On the 19th you are told to get your act together or move to another job. The 20th is much better as you pull yourself together. You look great, but you are a slacker. On the 23rd you are stressed with holidays and parties. The 24th is a late night as usual. The 25th finds your Christmas spirit gone. You are too tired and stressed to care about traditions.
Take heart, Sagittarius, good days in December 2014 include the 3rd, 4th, and 5th of the month. You are able to function with high energy, good vibes surround you, and co-workers are particularly helpful. On the 8th you finish the most rewarding assignment you have ever had. It is done well and accolades come your way. On the 12th you finish Christmas shopping. The 13th is a particularly fun family get-together and on the 14th things are happy and jolly.
Horoscope for December 2014 for each zodiac sign
Horoscope for December 2014
Horoscope for December 2014 for Sagittarius