Horoscope for December 2014 for Capricorn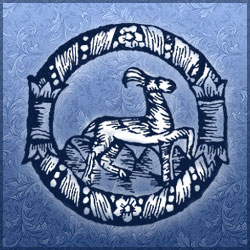 Capricorn, don't resist the parties, social events and traditional happenings this month. Nothing you do will keep you away. Even though you do not like get-togethers all the time December 2014 is not the month to be squeamish about social events. There are several planets moving through Sagittarius and they are full of the holiday spirit. Go ahead and be happy, fulfilled, and spontaneous. You will be energized by the end of the year.
On December 21st the New Moon moves into your sign and your house of appearance. You will be urged to make changes in how you look. Wearing black can be sexy, but all the time is a drag. Choose happy colors and go with the look of the season. You will be much more cheerful. Kick back and be somewhat extravagant. It is out of character but is good for the soul.
Around the 15th of December 2014 Uranus pokes at Pluto and they form a square in your house of home and domestic tranquility. Financial issues are at the forefront of your mind as you avoid spending on frivolous gifts. You are asked to give a donation to a family member's fund to help with their distress. Since you are a generous soul you gladly give.
Saturn is your ruling planet Capricorn and will move through Scorpio on December 23rd. You feel a bit lighter in your soul but do not realize Saturn's presence has been the catapult for serious thinking and acting. Let go of the reins, go with the flow, and relax just a bit. You will still get everything done you need to do.
Unhappy days for you in December 2014 Capricorn are the 1st and 7th plus the 8th. Everything is in chaos at home and in the office. It makes you think you are not doing what you need to do. Actually you just need to take charge. On the 15th your check is smaller than you expected. This puts you in a flurry of anxiety and stress. Keep breathing. On the 16th you get the rest of the money you are owned but it is still not enough. Talk to your family and ask them to cut back a bit on the holiday cheer. On the 22nd you are finishing up shopping and wrapping and it is depressing. On the 24th the Christmas Eve party at your parent's home is noisy and chaotic. You just don't like social events full of rambunctious people. On the 25th, open gifts with your family and try not to be a grump.
Happy days in December 2014 Capricorn include the 4th and 5th. Everything is awesome at work and home. Things are in order and controlled. On the 11th and 12th you finish up all your home chores and your home looks beautiful. On the 14th you are anticipating a great paycheck. On the 19th the snow coming down is wonderful and puts you in a Christmas spirit. December 20th is the perfect day to finish work chores and take the rest of the month off. The 21st is a happy day at the office Christmas party.
Horoscope for December 2014 for each zodiac sign
Horoscope for December 2014
Horoscope for December 2014 for Capricorn