Horoscope for September 2013 for Sagittarius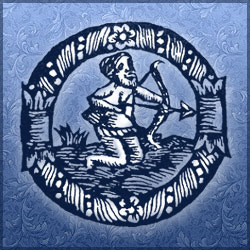 When Venus transit through Scorpio and your house of romance Sagittarius, you will have an increased enlightenment with you love partner. Set aside evenings and weekends to be romantic and just be with your relationship partner. Devote time to each other and find the ideas and situations that will bring you closer together. Get to know each other in a deeper way and find communications and conversations highly entertaining and informative. If you are single Sagittarius, you might just revive a love from the past and it will be very nice.
Family relationships are very important during September 2013 - and throughout the year. The 19th of September invite close friends and family to join you in a last of the year bbq and have a get together as the summer is finally drawing to a close. Get your family to help around the house. Mercury frowning on them might just scare them into helping more than usual.
Energies are devoted to home life and plus career and efforts to making your working environment better. On the 5th of September 2013 you will have an opportunity to increase your earning power and your monthly income will swell. If you are looking for new employment, you might just want to send out resumes on the 5th and 6th.
Again, during September 2013 this is a month of relationships with people you like and love. You will experience renewed friendships and deepening romantic interludes. Do note that from the 9th of September until the 28th there is the possibility for arguments and disagreements. This is due to planet alignments that are unfavorable and moving through your house of social activities. Stay calm; these disagreements are not going to be that devastating. You might have a conflict of interest in money matters on the 15th; a friend will as to borrow money. Don't loan money if you feel that you can't afford it. There are other ways friends can find the funds they need.
Take care that on the 2n and 7th you are watching for accidents with injuries. You might find that on the 9th and 13th you are challenged in your working relationships. On the 15th and the 20th don't despair if your paycheck is late; it will come. You will be further challenged on the 22nd and the 27 is a horrible day. Stay home on the 29th of September 2013 and just don't get up. Tell everyone in your family to go away.
You will be highly rewarded for all your efforts both in the home and in the work place on the 3rd and 6th. The 9th is a great day and on the 10th have a party. The 11th and 12th plus the 17th will bring rewards in the form of additional love and presents (yea!). On the 19th stay away from those who are gossiping and the 28th will bring you further rewards. The 30th is going to be the perfect day of the month even though it is raining. Stay home, drink cocoa and read a good book.
Horoscope for September 2013 for each zodiac sign
Horoscope for September 2013
Horoscope for September 2013 for Sagittarius