Horoscope for March 2012 for Sagittarius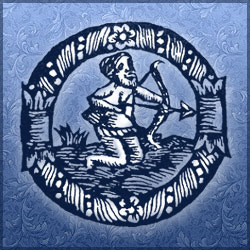 You've been going through a bit of rough patch with regard to your love life, but it's possible that's about to change. The improvement should come on slow and steady and is already under way. You can't but be drawn to a somewhat romanticized and idealized version of love; it's just who you are. This sometimes creates problems when the reality fails to live up to your overblown, Hollywood-ized perception of what love should be. Don't let this get you down, though; what you're looking for really does exist, it's just going to take you a while to find it.
You're having good luck when it comes to finances this month, a continuation of the good things that happened to you earlier in the year. This trend will continue unabated for a while yet, much to your pleasure. The feeling of security brought on by financial stability allows your mind to roam free over more intimate topics, particularly those involving your love life. You may be drawn to someone now in ways that you had previously dismissed. Don't be surprised if loves comes your way from unexpected quarters.
Your communication skills are operating smoothly and without error at this time. You make a good impression on everyone you meet and seem able to work well within a team or couples environment.
An old flame may pop again in your life, someone you've not seen for a long time. This could stir up all sorts of old feelings you though (and hoped) were gone for good. It turns out that these feelings were only sleeping, not dead. You must do whatever you can to deal with these feelings, as giving in to them will probably not get you the result you're looking for. This person is out of your life for a reason, and if you can't remember what it is, you can rest assured that renewed contact for any length of time will be all that is required to remind you. You can do better. You have done better. Now is not the time for looking back.
Your social life will probably slow down somewhat after the middle of the month. The decrease in commitments will probably be a welcome change after the hectic pace you've been keeping. Later in the month, you may find yourself in a situation in which you are tempted to act in haste with regard to romance. This may be love at first sight or a reunion with a lover you've not seen in years. It either case, you must use all due caution not to act too rashly. The things you are looking for are already in your grasp. Don't lose them reaching for straws.
Keep a close eye on your health in the early weeks of the month. Chances are you've been sloughing off when it comes to physical fitness and that tendency is going to have some negative consequences if you don't nip things in the bud.
Enjoy all the good things life has brought you. Friends, family and a warm place to hang your hat at the end of the day are all yours. The future may be somewhat dicey, but for now, life is pretty darn good.
Horoscope for March 2012 for each zodiac sign
Horoscope for March 2012
Horoscope for March 2012 for Sagittarius