Horoscope 2018 for Virgo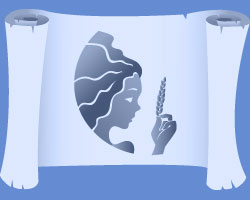 Sun in Virgo, August 23 - September 22
General:
The beginning of the year may bring a mini existential crisis. You wonder why life isn't fun, or as easy as when you were a child. You remember how easy it was as a kid to make friends, or to find ways to get over emotional issues. Granted, this may all be nostalgia. The truth of what happened when you were a kid may be very different. Sort it out. Meet your old friends if you have to do so in order to let go of the past.
Through spring and summer, you get more involved in the outside world. Your seriousness turns into a real effort to play and be with people. Moreover though, you want to do something with your newfound knowledge, if only to test it in the real world to see if you can manipulate everyday life into something more enjoyable, or at least not weighed down with excessive emotional baggage. Granted, you won't be ready to set yours down until sometime in the late fall.
From late summer through winter, you'll feel more attractive and more personable. Your rougher edges will smooth, and you'll feel more taken care of by the universe. Of course, this is all the calm before the storm, because 2019 will bring some changes in your love life and in your public life that will make everything you felt in 2018 a cakewalk. Enjoy the winter holidays, because 2019 is coming.
Love:
You may spend New Year's in the arms of a lover, or dreaming about one. You may actually do both: you rejoice in finding a new love, or a person to at least be with, while secretly pining away for a romance that is long gone. By April, however, you meet new people who give you perspective on the past and make you hopeful for a future with a new love, a future in which you're wiser about the world and your own self.
During the spring, your focus is more on yourself and your goals rather than anyone else. Relationships aren't that important. The good news is that by the end of the summer, your love life should pick up. Emotionally, you're in the right place, and you're attracting those who are interested. You still have to watch out for lovers who may not be what they seem, especially if you flaunt your wealth or success. However, you've probably already learned your lesson by now that you get what you seek.
Through fall and winter, things are going to heat up in the love department. You may find someone you want to be with and seduce or court them. You'll probably be the one pursuing them, but it's possible that someone else is quite taken with you and blatantly tries to win you over. You're flattered, if not a little intimidated. This person may be everything you never realized that you wanted. They're hurting in the same ways you're hurting, and you understand each other on a very deep level because of this.
Money:
You're still going to see some radical changes in your finances and your shared assets. The beginning of the year is going to bring some changes that you won't like. Don't be surprised if someone reneges on an agreement, or if you end up getting far less than you expected from a joint venture or contractual pay. By spring, this should stop, and you may have the opportunity to make up for lost time, though this won't come in a way you might expect.
The late spring and summer are great times to make money. You'll attract new opportunities the more you get out there and try to meet others. Writing may be especially lucrative, even if you don't sell your writing for money. In particular, content writing or other types of marketing campaigns should go well. If you're not in business, polish your resume and put it up where others can see it. You never know who will be watching this summer, and you never know what opportunities may present themselves then.
Fall and winter are going to bring opportunities to make money, but chances are you'll be putting what you've earned to good use. If you've been pretty frugal this year, you may allow yourself some indulgences. A new wardrobe and a new look can help you appear more like the person you wish you were, even if you're not normally trendy. If you're in love, or looking for love, you'll consider this a wise investment. Any investment you put in trying to impress the right people in a good investment.
Career:
Your career isn't really going to change very much in the first four months of the year. The beginning of the year may bring minor frustrations, usually regarding communication, but nothing major should happen. Stay alert, and try to stay organized. You have dreams that you want to make come true, and they'll need you to stay on your best behavior at work. Be a model employee or boss. Making your hopes and dreams come true for the future means being an excellent peer and colleague to everyone.
The next four months of the year see you dreaming bigger. You know that you could do more if you tried, and that there are things you haven't done, places you haven't seen, and people you haven't met. Your desires, politics, and even religion may change sometime after late summer, sometimes quite suddenly. You may just wake up one day disgusted with the place you're at and the people you're with, and boom! You may a complete change right there and then.
Fall and winter bring some magic to your career. You may find favor with someone powerful or wealthy who wants to help you. You know what to say and how to persuade people. You're an ideas person, and you may be prone to exaggeration now, but you can also generate a lot of enthusiasm for what you do. Start any promotions, marketing, or looking for new work in the fall, and things should work out in your favor in winter.
Read:
Horoscope 2018
Horoscope 2018 for Virgo for the year of Dog
The 2018 horoscope brought to you by Horoscope-For.com - free 2018 horoscope for the year of the Dog.