Horoscope for November 2017 for Scorpio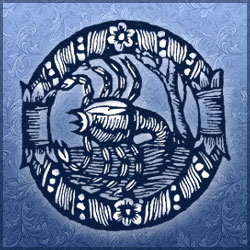 Horoscope for November 2017 promises Scorpio representatives a fairly simple and quiet period, with no bright events. You will spend this fall with a persistent feeling that most of the planned projects are now finished. You will be openly proud of yourself, and this feeling will significantly raise your self-esteem.
The personal life of Scorpio representatives in November risks to get "covered with dust." You will be very reluctant to leave your comfortable home for the rare meetings in a circle of close friends. If you are single and cannot stop dreaming that one day a worthy second half will enter your life, the end of this fall will make you forget about these dreams. The reason for that will be your own unwillingness to let anyone in your personal little world, where everything goes according to a strictly planned scenario. No, you are not going to deliberately avoid new romantic acquaintances, however the opposite sex will feel that you don't show even the slightest interest in them. If you married, you have every chance to get bored by monotonous November weekdays. If you and your marriage partner do not learn how to create a holiday and fireworks of bright emotions around you, there's a very high risk that your family tandem will be marked by a deep crack. You cannot but agree, that it's far better to protect yourself by taking the most basic measures (unexpected gifts, passionate declarations of love or activities that you will attend together with your second half would be perfect for this purpose).
The financial aspect of Scorpio' life in November will be marked by a striking stillness. You will be completely satisfied with the level of your income, and will even plan to make a very expensive purchase. If you are an employee at a company, be prepared to meet a new colleague in November. This person will quickly win the recognition and credibility, directly challenging you on your competitiveness. In order to eliminate your business rival as soon as possible, use cunning tactics (for example, make friends with this person and win his or her full support). November will help Scorpio-entrepreneurs find promising foreign investors. This means only one thing - your company will continue to grow, and you will have to consider how and when to proceed with the opening of a foreign branch.
November won't make Scorpio representatives worry about their health. You will not have to face any other issues besides mild flu, which you will be able to fight off just in two or three days. In order to avoid falling victim to colds in future, it's quite reasonable at this point to start taking some agents aimed at immune system boost, and you'd better keep up with this routine throughout the entire cold season.
Horoscope for November 2017 for each zodiac sign
Horoscope for November 2017
Horoscope for November 2017 for Scorpio