Horoscope for November 2017 for Sagittarius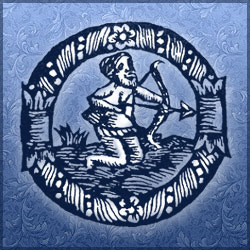 Horoscope for November 2017 does not advise people born under the constellation of Sagittarius to take up on something new. Only by performing your usual duties and dealing with your regular tasks, you will be able to spend this fall without worries and stress. Take care of yourself, put things in order at home, re-establish your interior, and it's better to postpone all ambitious projects until a more favorable time.
Sagittarius representatives in November would hardly want to change anything concerning their feelings and interpersonal relationships. If up until the end of autumn 2017 you haven't built up solid romantic relationships, it is quite unlikely that at this point you'd want to do anything in this direction. The opposite sex is going to cause you nothing, but the strongest irritation. The reason for that will be the memories about your latest relationship, which did not end very well. Until these wounds are completely healed up, there's indeed no sense to get involved in romantic relationships. Dedicate the month of November to the restoration of order in your inner world, and do not forget to ruthlessly remove all memories of your ex. Married Sagittarius representatives in November will hardly direct any pleasant words at their beloved ones. You will keep on diligently looking for flaws and disadvantages in the behavior of every family member, that you will immediately begin to criticize in a rather harsh manner. Of course, hardly any of your beloved ones will agree to tolerate this "judgmental attitude"! It is quite possible that your family is going to raise a "rebellion", after which you will no longer be considered a domestic tyrant.
Sagittarius-employees in November would not want to make any attempts aimed at their career growth. A necessary spark will be completely lost at this point, meaning that everything you will be able to do is to fulfill familiar duties. You will not show any initiative at work or in dealing with your finances. It is quite possible that you will completely cut any expenses throughout the month of November, considering all material values a minor part of your existence. November will force Sagittarius-businessmen to "pull out their wallets" to pay for rather expensive professional services. You will be satisfied with the way an experienced specialist organizes the work of your company, meaning that you won't regret the money spent. At the same time, you'll have to face yet another difficult task. You'll want to have a valuable employee constantly by your side, however at this point, it doesn't seem possible, since you cannot afford it at the moment.
Sagittarius representatives are not expected to experience any anxiety about their health in November. The absence of shocks and other emotional outbursts will make you significantly more balanced. Assessing the state of your health, you'll be proud to notice that you've been able to fight off a lot of your worst enemies (both seasonal colds and the exacerbation of your old diseases).
Horoscope for November 2017 for each zodiac sign
Horoscope for November 2017
Horoscope for November 2017 for Sagittarius