Horoscope for December 2016 for Gemini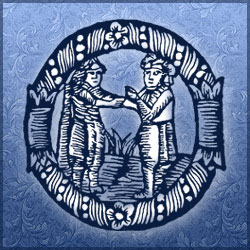 December of 2016 suggests Gemini representatives to avoid looking for an easy way out of any situation. The month itself promises to be rather difficult. Excessive bustling and garrulity may affect your career and personal life. Stars recommend the representatives of the Air zodiac sign to take a responsible and serious approach towards their duties, since there will be no chance to make others do their job. However, December will provide this zodiac sign with enough strengths and energy to finish their current projects, they just need to work really hard and keep a tight rein on themselves. This is not the time when you can make advantage of your oratorical skills and natural magnetism. Gemini representatives will need to take real action and yield significant results.
The most favourable period is the middle of December. Gemini, relying on their voice of reason, will be able to gain benefit and make huge profit, which will be rather handy, since stars predict a lot of expenses in the nearest future. Personal life does not promise to bring any fundamental changes, everything will continue to take its course. A slight misunderstanding is expected to rise between parents and children, which might result in quarrels and squabbles. Those Gemini representatives, who are in love, will have a chance to implement their plans, all they need to do is just show some initiative and ignore the opinions of others. Stars recommend to be honest and open with your family and close friends, though there's no need to let them manipulate you. Your better half will provide solid support this month, strengthening this way the relations between you.
The first decade of December will teach Gemini representatives to get through with all their current tasks regardless of the difficulties and obstacles on their way without feeling sorry for themselves. The dual nature of this zodiac sign's representatives makes them doubt and worry for almost no reason. This character trait of theirs might interfere with the success of the planned event. To achieve the goal, Gemini representatives need to ask their colleagues and friends for help, this is the only way for them to realize their ideas and get things going.
Stars promise to be rather favourable towards the second decade of the month concerning meeting new people, getting married, and planning children. It is quite likely that Gemini representatives will find their soul mate in somebody, who evoked solely friendly feelings until now. Mid-December promises to bring great luck in lottery and gambling to people born under this zodiac sign. Gemini representatives are even expected to win the jackpot.
The third decade is the time filled with pleasant bustle: getting ready for the upcoming holidays and buying gifts for numerous friends, as well as for relatives and beloved ones.Stars recommend the representatives of the Air sign to celebrate New Year at home with their families. This way you will be able to fully enjoy the holiday.
Horoscope for December 2016 for each zodiac sign
Horoscope for December 2016
Horoscope for December 2016 for Gemini