Horoscope for February 2013 for Taurus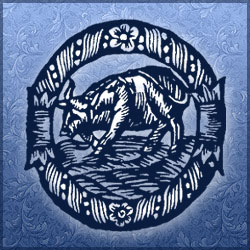 Taurus your stony nature may keep you calm during a very chaotic month at work. Try not to fall prey to your coworkers and their worries. February is very different when it comes to romance e. Spend an evening with someone special and open up. Let your emotions show.
Determination and willpower set you apart from everyone else. You have found that these traits have served your well in your career and personal relationships. However taken to far these positive traits will manifest as stubbornness which will undermine everything you want to achieve. Stand your ground on important issues but choose your battles wisely.
You tend to do everything at your own pace, and this is a commendable trait. However in February you may have conflicts that arise because of your "pace." You are steady but you must have it your way and in your own time. This has caused you heartache in the past and may do so this month of romance, hearts and flowers.
Venus is your ruing planet and possessions are highly important to you. You tell people that you do not care about "stuff" but inside you are seething when something you want does not come to pass. You do make snide little remarks to others when you don't get your wants. Perhaps this is a sign of your emotions insecurities.
Around the 25th of February you may want to lighten up and have a little fun. The Full Moon in Virgo asks you to take your family to a sporting event or a movie. Spend an evening with hobbies and fun activities. Let your hair down and enjoy what you have. The full moon may bring a romantic interest into your life or you may have a small windfall in finances.
As Mars rushes in Pisces on the 1st of February you will find that friendships will flourish and bring you into contact with many people. Friends have more friends and you will want to get to know them, too. You might just find the person you are looking for. If you are in a relationship, keep your temper in check on the 9th. Stress might just trigger a disagreement that cannot be mended.
You will have high career visibility on the the 10th. This is the New Moon in Aquarius and in February you will find an increase in earnings. You might hear fun confidential information on the 6th. Socialize with coworkers on the 15th or 22nd.
All your plans will probably go away around the 23rd when Mercury retrogrades in Pisces. This often causes problems and you will need to make sure all your projects are buttoned up. You may find decisions are hard the end of February particularly in regard to major issues. Explore all options now and keep your mind open.
Watch out on the 9th, 13th and 20th as well as the 23rd and 28th to be highly challenging. You might not want to make any major decisions or go anywhere different during this time. You will want to have fun on the 8th, 12th, 15th and 22nd. The rest of the days are just work days for you.
Horoscope for February 2013 for each zodiac sign
Horoscope for February 2013
Horoscope for February 2013 for Taurus