Horoscope for December 2013 for Pisces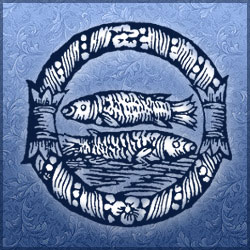 Pisces home and family are the paramount bright spots of your life, The December 17th Full Moon in Gemini and your house of family will be highly enhanced. Decorate for the holidays with as much professionalism and happiness as you can. Bake treats and enjoy the time with little ones. Create memories. December is a wonderful time to host family get-togethers. Select a few wonderful friends to come along to your reunions. Maybe on the 14th or the 28th.
Staying in touch with family and friends through December circles around your life. Mercury jumps through Scorpio and Sagittarius as well as Capricorn this month. The planets will transit through your houses of relationships, family and parties. Plan a party or an evening out with co mates on the 4th or the 23rd. Join friends for holiday social events the last week or just after Christmas Day.
You have a huge upswing in your career on December 2nd. This is the New: Moon in Sagittarius. You might receive a holiday bonus today, but do be realistic. It will not be much. If you do not get you career advancement or bonus, be happy. Just continue on and know that you are doing your very best. There is schooling to consider. Don't reject this idea. Knowledge and higher degrees will advance your career into new heights.
Friends that had problems might just become rockier during December. Venus is retrograding from the1st until early March. Hurts and old insults will again surface. If you meet a new friend do go slow. There might be great deals on the internet, but do not take the chances. Shop with bargains in mind and do not make luxury item purchases.
The 3rd and 4th of December are days to be aware of challenges at work. You might find that things are missing on your desk. Who is the culprit? That is a suspicious note. The 6th and 8th plus the 10th bring storms into your life both emotional and physical. The 20th is not a good day and the 21st is perfectly terrible. The 25th is challenging, but try and be happy and relaxed. The 30th is a party at a friend's home and you are not invited.
The 1st and the 3rd are happy days for you Pisces. Your intuition is on high and you know just what to do. The 9th and 12th are lucky days. The 14th finishes up shopping and you are relaxed. The 19th and 23rd are rewarding in regards to family matters. The 27th is one of the most lucky days of the year and find that rewards coming to your twofold on the 28th.
Horoscope for December 2013 for each zodiac sign
Horoscope for December 2013
Horoscope for December 2013 for Pisces