Horoscope for July 2012 for Scorpio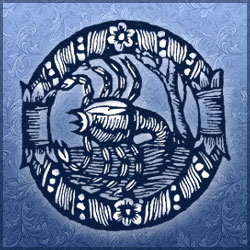 Decan 1 (born Oct 23 to Nov 1) - This will be a very positive month for all the Scorpios born under this decan (and for all water signs, really). Since the Sun and Mars combine in your 11th house (Aspirations & Desires), lifting up your spirits and your overall mood, transforming your charisma into something that will definitely catch the attention of those around you. The good vibes continue during the entire month, but from the middle of the month onwards, Mercury becomes retrograde, which means that misunderstandings, conflicts and confusion could happen. However, take advantage of your good mood this month to surpass any problems! If you're tempted to lash out, don't! If you say anything less pleasant, it will come back to haunt later on. Your workplace will be amply influenced by this planetary configuration, so keep your tongue under control and you will see you will be able to accomplish much!
Decan 2 (born Nov 2 to 11) - The Sun and Mars will come together and reside in the 7th house (Relationships & Partnerships) of your decan, so during July 2012 you will have plenty of energy to go around in this area of your life. Nevertheless, since Mercury is retrograde, you should be aware that you will have to deal with some unresolved problems, complications or old grievances. Maintain your coolness, choose your words carefully and you will be fine! In fact, this could be an excellent opportunity to create something new and great! Venus and Mercury are influencing your 8th house, affecting your finances. If you manage to control your urges to overspend (particularly around the 23rd), everything will happen without causing much harm. Nonetheless, remember that since the Sun is also wandering to this house, you might be afflicted with feelings and impulses to spend more than you can afford. After the 21st, the Sun changes into pleasant Libra, which will absolutely improve your domestic interactions and all problems will likely disappear.
Decan 3 (born Nov 12 to 22) - Your 3rd House - Communication and Travels - will be visited by the Sun and Mars during most part of the month, so you will likely become the life of the party, Scorpio. Expect lots of social interactions, lots of visits to and from friends and family gatherings throughout the month. Since your creativity will also be dropping by the lend a helping hand, don't be surprised if your ideas seem to be lifesavers to the people around you. Capitalize on those ideas and create your own opportunities, since the world is definitely ready to listen to you now! Make your impact on the world and on the people around you. After the 21st, the Sun changes into Libra and your 4th house, so domestic matters will be amply emphasized. In fact, creating a prettier or more comfortable home environment will become your main concern.
Horoscope for July 2012 for each zodiac sign
Horoscope for July 2012
Horoscope for July 2012 for Scorpio