Horoscope for July 2012 for Capricorn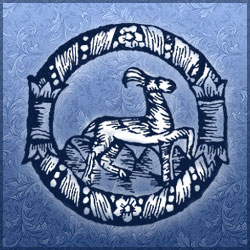 Decan 1 (born Dec 22 to 31) - Your mind will be dreaming of vacations and exotic destinations and you sure need a break after all the hard work you have done. Besides, the beginning of July 2012 will be a great period to travel, since you will definitely enjoy yourself. However, make arrangements to return before the 14th. From the middle of the month onwards, your focus will be on work and work alone. Especially after the 21st, since the Sun enters Libra and your house of career, giving you an enhanced charisma and motivation towards work. Throughout July 2012, watch your expenses closely and make sure you don't make any childish mistakes. Uranus - the planet that always has some surprises up its sleeve - will be in your 2nd house of Money and Values, right next to Neptune, the planet of deception, which could bring about some problems for you as far as money goes. You're usually quite money-savvy, so try to maintain this trait if you can.
Decan 2 (born Jan 1 to 10) - Creativity will definitely influence your decan, Capricorn, and the desire to do something different and extraordinary will help you create new things and new plans. Your entrepreneur mind will have figured out, by now, which matters are most urgent in your life, which means that now is the time to bring them to reality. Your charisma will also be emphasized, making you shine in the workplace and forcing people to feel completely drawn to you. Since Venus' influence will be present throughout the month, even your personal relationships will be happily influenced, starting right in the beginning of the month. After the 21st, since the Sun moves into Libra and if you're single, it is an excellent time to begin a new relationship. Keep an eye out for Saturn, though, since it will be casting its shadow on your 2nd house: sudden expenses could rock your budget, so keep your purse closed.
Decan 3 (born Jan 11 to 19) - The best advice for your decan this month is "strengthen your inner self and stand up for your rights!" You have been something of a shadow in the workplace and now is the time to take charge. Your energy, motivation and charisma will be extremely high, making it the perfect time to stir up things. Just be careful not to push around your friends and coworkers, because this could create some problems. But, overall, enjoy this influence of the Sun and Mars stationed at your 1st house (Self and Personality). Don't get too cocky, though, because this doesn't mean that problems aren't lurking around: keep an eye out for money issues and unexpected expenses (particularly around the 14th). Also, monitor your health closely: Saturn will definitely be trying to ruin your good spirits and your extra energy. During July 2012, your mind will be racing and although you may not have a clear idea of what you want exactly, you will feel motivated to take action!
Horoscope for July 2012 for each zodiac sign
Horoscope for July 2012
Horoscope for July 2012 for Capricorn