Horoscope for August 2012 for Scorpio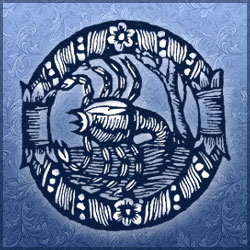 Decan 1 (born Oct 23rd to Nov 1st): the planets continue issuing some retrograde activity (both Mercury and Uranus) and it will continue to be high up until the 8th, so remember to take things slowly and smoothly, reserving some of your famous intensity for later. After the 8th, the tension will likely dissipate a little, especially in your professional department, since the authority figures in your life will be quite supportive. The career department is positively influenced, but the same doesn't apply to your health, since you are likely to be suffering from very low energy levels and some anxiety. Even though they will improve after the 23rd (as the Sun enters Virgo), you should make sure you set some time aside to relax and enjoy life. After the 24th, Mars moves to your sign and your decan, creating enhanced energy levels and making you feel as if you are born once again. Remember that Mars is a strange planet, since it carries both bad and good and is able to underline qualities and flaws.
Decan 2 (born Nov 2nd to 11th): Mars will continue to be casting an enormous influence until August 20th, certainly inspiring money and financial issues. In fact, this might be an outstanding occasion to make investments, since you will have the clarity of mind necessary to recognize a good opportunity, even in the middle of some havoc. Yet, Mars has kind of an opposition to it: its effect can be both positive and negative and you should be careful to manage things the best way you can. Yes, you will have more charm, strength and vigor, but you should also be careful about impulsive behaviors, hostility and impatience. After the 23rd, as the Sun enters Virgo, your love life will receive a vigorous improvement and you will likely become quite social and outgoing, especially because Mars and Mercury will be going hand in hand. Regarding romantic interests, love will be lurking in every corner.
Decan 3 (born Nov 12th to 22nd): The ruler of all planets the Sun will disappears for your Zodiac sign in August 2012 because of the retrograde movements of this planet that will end on the 11th of the month. Even if this situation will not affect straightforwardly all around you and other people that taking a vital part in your life. Therefore, you should assume some interruptions and you will need to slow down, be aware of the details and take time to decide and to take action. Until the 23rd, however, finances will still be fairly good and you should have the vision needed to make some investments for the future. Do remember that you shouldn't bite more than you can chew! When the Sun enters Virgo (on the 23rd), the overall mood will be much more traditional and work-oriented. From the 22nd to the 25th, the Sun will be opposing Neptune, so dishonesty may be lurking about. You need to be extra careful about compromises and important financial choices. Make sure everyone is at the same page.
Horoscope for August 2012 for each zodiac sign
Horoscope for August 2012
Horoscope for August 2012 for Scorpio