Horoscope for August 2012 for Pisces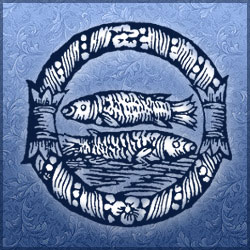 Oppositions are in your life regarding what you are planning to do. In August 2012 you should finish your personal duties as soon as you can before people come to you with problems. Hide if you must. Have fun with friends at a social event during the first half of the month. Take the time to be happy but do be careful when drinking. Do not lose sight of your responsibilities to yourself and others Pisces. There is much going on in your life, but you are just a little cog in the wheel. No one is really thinking of you so stop believing that you are the topic of every conversation. Perhaps if you join in conversations or planning there might be less gossip about your life. Or maybe it is fun to talk about you!
Pisces go out of you way to help people. Starting from August 11th the Mars and Saturn create a favorable conjunction in your work house so you are expected to deal with problems at work and solve them quickly. You can take pride in your accomplishments. Let others know where you stand and tell them what you are doing.
At 14 and 15 of August 2012, stay very close to home. Maybe take the day off. There are ulterior motives from friends who are making strange gestures of friendliness. Get all the information you can before making decisions on major purchases. Look at your budget from all sides before promising money to anyone.
Think before you act, especially around August 19th since you are relying on the good will of others. Responsibilities just get you down, but you can get the out of the way if you work hard. Don't complain about your life to anyone. Keep it to yourself. If you want to impress someone, be cool and collected.
You need to take a different approach when you deal with groups and teams on August 20-22nd. Use your imagination to find solutions that make you look good. Update your image and physical appearance. You will receive high praise. Don't stay stuck in the past, but come out into the light. Excess wants are your nemesis Pisces. At the end of the month try not to take on too many projects that you know you can't do. Stay calm and make situations work for you. Make a list and tick off each item when you have accomplished it. This is a sure way to make you feel like you are accomplishing things.
Horoscope for August 2012 for each zodiac sign
Horoscope for August 2012
Horoscope for August 2012 for Pisces