Horoscope for December 2017 for Scorpio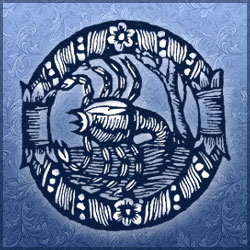 Horoscope for December 2017 suggests Scorpio representatives to refrain from excessive harshness in their words and actions. You cannot but agree, that it will be quite unreasonable, if on the verge of New Year's celebrations you personally destroy the upbeat atmosphere by spreading aggression and terrible irritation. To avoid this, please do not forget to control yourself whenever you want to burst into an angry tirade.
The personal life of Scorpio representatives in December will entirely depend on their ability to self-control. If you are going to put out all your aggressive outbursts right away, you will be able to prevent a conflict with an old friend, and you'll also avoid disagreements with your neighbors. In general, the beginning of this winter is not going to cause you any particular trouble. If you are single, you will still cherish the hope that a new romantic relationship is just round the corner. Do not even try to create an illusion of passionate falling love with the first person you see! Your dreams of spending your Christmas holidays with the unfamiliar person are destined to break against the harsh reality (you and this person are clearly not on the same path, of course, if romantic relationships with unworthy people do not contradict your nature). If you are married, give up excessive creativity when preparing the New Year's celebration scenario. At first you need to ask your relatives, whether they are ready to spend the New Year's Eve away from civilization or tolerate the presence of your weird friends for a few days. In general, Stars recommend you to show maximum respect for your family members in December, since this is the only way you can keep a warm and friendly atmosphere.
The month of December is not expected to make Scorpio representatives face any specific obstacles on their career or financial paths. If you are working for a company, you will be able to outrun your colleagues and complete all current projects by the end of the year. In addition, you will be able to help those colleagues, whom you consider to be your faithful companions. And soon enough you're going to organise together with them an unforgettable corporate event, which will resemble a friendly party. If you are involved in entrepreneurship, the month of December has also prepared for you a lot of pleasant emotions. You will enjoy a steadily growing income, as well as a good attitude from your new staff. In short, waving a goodbye to the year of 2017, you will feel quite confident and comfortable.
The beginning of winter will not make Scorpio representatives experience any major health related issues. Your consistently good health will allow you to perform a great number of important tasks. At the same time you should not forget that nerve cells do not regenerate. And here's an essential advice - every time you want to break into shouting, find a way to regain your emotional balance.
Horoscope for December 2017 for each zodiac sign
Horoscope for December 2017
Horoscope for December 2017 for Scorpio