Horoscope for September 2016 for Scorpio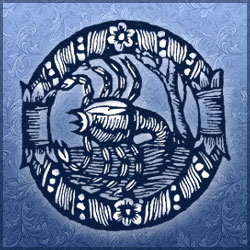 September is usually considered the starting point of a new work period and it also stands out as the beginning of a new school year. Though it seems that Scorpio representatives tend to deny this fact by all means. Deep relaxation will capture Scorpio representatives in September of 2016. Though you realize yourself that things cannot go on this way forever; sooner or later you will have to put yourself together and plunge into the working process. Your deserved long-term vacation will fill you with bursting life energy and fresh ideas. This will interfere with your desire to work steadily instead of "jumping" in between new projects. Mid-September suggests Scorpio representatives to focus on a stable work pace and determine top priorities. Otherwise, your absent-mindedness and lack of discipline will radically affect your income.
The personal life of Scorpio representatives in the first half of September 2016 might turn out to be quite unexpected. A serious misunderstanding might arise. Your partner's desire to be heard and understood will cause conflicts. You will be able to settle all quarrels and squabbling only in case you work out a compromise. Even though at this point you might think that compromise is nowhere to be found in your current situation and it contradicts all your beliefs and ideas, you will realize later that you've made the right choice and prevented the "upcoming storm", which could have demolish your relations. The end of September will suggest most of Scorpio representatives to analyse their previous actions; and you are the only one to decide what those are going to be.
Professional growth of Scorpio representatives in September fully depends on their level of self-realization. Those successfully resisting the urge for extending their vacation can expect pleasant surprises concerning the work aspect of their lives. New promising deals, extension courses, business abroad trips - these are the new resources that will be available to you by the end of September 2016. Those focusing on the objective analysis of their professional skills, will undoubtedly take their career development to a whole new level. If Scorpio representatives refuse to sustain their professional growth, they will have to start looking for a new job. Keep in mind that all your projects and other work activity is thoroughly monitored by your superiors. On the one hand, they are ready to meet you halfway and support your professional growth. Though their estimation of your work might be the reason of your dismissal.
Horoscope for September 2016 for each zodiac sign
Horoscope for September 2016
Horoscope for September 2016 for Scorpio